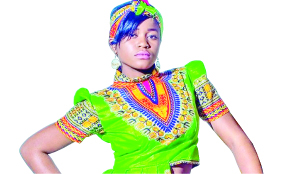 By CHIPEMA SAKAIMBO –
UPRISING model Mercy Chiti has unveiled her dreams of combining splendour with brainpower through building an orphanage house.
The dream was inspired by her real life situation and experience from the time she lost her parents.
Mercy explains that she lost her parents at a tender age and knows exactly how it feels to be homeless due to the circumstances of losing parents.
She said some people abandon children that do not have parents but her prayer was that with time and help from other people, she would provide shelter for such children.
The 20- year-old explained that she decided to be a model due to the love and passion she had for pictures, fashion and the hopes she had that the career would help her fulfil her dream.
She disclosed that she had a passion for acting and hoped that she could be given an opportunity to feature in a movie where her greatest talent could be realised and appreciated.
Mercy said her modeling career started taking shape when she woke up and saw herself on a huge billboard of the Zambia Bureau of Standards.
For her that was the greatest motivation and she said she would continue pushing harder so that she could make it.
Mercy who is under Unathi model agency is working hard to establish herself as one of the finest models and hopes to get acknowledgement internationally.