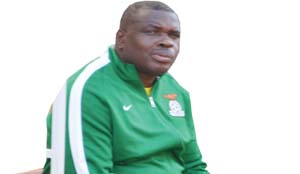 By NDINAWE SIMPELWE –
CHIPOLOPOLO coach George Lwandamina says Zambia has a high chance of qualifying to the Russia 2018 World Cup finals from a tough group contrary to people's fears.
Zambia was drawn in Group B with Algeria, Cameroon and Nigeria with only the side that finishes top making the trip to Russia.
Soccer fans and social media reacted with fear after the draws and quickly labelled Chipolopolo as the underdogs following the team's recent poor form.
But in an interview yesterday, Lwandamina said the Chipolopolo cannot be written off so easily because they were as competitive as the rest of the teams in the group.
He said the group was tough and there was no underdog adding that every team had a chance to qualify to the tournament.
"It is a very tough group. But draws are always the same. There is no team that starts with six points or three points, you all start from the same level. We all start from zero points," said Lwandamina.
He said the players know they will be facing teams that have been to the World Cup before which will be extra motivation to beat them.
Lwandamina said Zambia has gained enough experience and will not be intimidated by the names but will instead be competitive and take on their opponents.
He said Zambia's status on the continent was high and every team knows Zambia is a former African champion which makes Chipolopolo a tough customer.
"What is important is the preparation. I know all the three teams have been to the world cup. We are the only team that has not been to the World Cup which is a motivation on its own. Players will be motivated by that. If they will be tough we will also be tough," Lwandamina said.
Zambia opens the qualifiers with a home tie against Nigeria on October then will face Cameroon in Younde on November 7 and will have to wait until August 28 2017 before Algeria at home to conclude the first legs of the group.
Meanwhile, GWEN CHIPASULA reports from Windhoek, Namibia that assistant coach Aggrey Chiyangi has said the COSAFA Castle Cup outing has kicked started preparations for the World Cup qualifiers.
Chiyangi, in a post match interview after Zambia lost 1-0 to hosts Namibia in the Plate final on Friday night, described the draws as good and challenging but that the Chipolopolo will be up to the task.
On the loss to Namibia, Chiyangi said the game was competitive and he was happy with the team's performance.
"We played well and it's just sad we could not get goals. At this point, we are looking at the future because we are already rebuilding the team. And this tournament was meant to assess players who can stand up for the task of the World Cup qualifiers," he said.