Published On July 30, 2016 » 2727 Views»
Features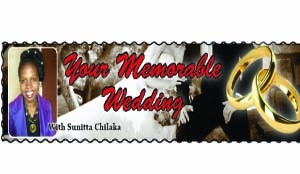 PLANNING a wedding is one thing, having a memorable one is another. Brides and grooms always want to have a successful and memorable wedding without going broke.
Just like we have a calendar to check on when the next holiday will be and for easy planning our work load, in the wedding industry we encourage brides to have a wedding countdown calendar which helps brides and grooms plan their nuptials without missing out the most important details.
The wedding countdown calendar also helps the bride and grooms to have a clear focus on how their planning is going. Planning a memorable wedding takes one year, the duration might look too long but l can assure you there is a lot to put in place.
On the wedding budget there are things which can be done early, they are neither perishable nor have an expiry date.
A wedding gown or suit can be bought early, choosing a venue and wedding rings. Some think a wedding is all about a gown, grooms suit, venue, cake, bridal party but in between all these and putting them together that's where a memorable wedding lies and takes a year to plan.
It pays to plan well in advance, remember it was not raining when Noah started building the ark. When the rain came he was well prepared and had shelter over his head and the planning helped him in future when he needed it most.
Design your wedding countdown calendar in such a way that it is attractive, eye catching and stick it somewhere so that you can look at it every day in the morning immediately when you wake up and in the evening before you retire and tick what you have achieve.
The first twelve months before the wedding date, inform your pastor about your wedding plans, work out a basic budget, see how much money you have saved, don't write a budget based on the money you will lobby from other people.
Many brides and grooms are preparing budgets on other people's pockets, hoping that the entire budget will be paid for by invited guests and well-wishers.
This has caused many couples to have debts after the wedding and they prefer monetary gifts to pay debts.
People don't just dish out money carelessly; even the richest person on earth does not spend money anyhow.
They say blood is thicker than water but in some families money is thicker than blood. Choose a wedding theme and style, determine the guest list and study a lot about planning a wedding and check out wedding outfits.
Eleven months to go, choose a reception venue which works well with your budget, the venue should match your theme, not a one size fits all venues, large parking space and the guests should sit comfortably.
Find a decorator, caterer, cake designer who can turn your dream into reality. Choose your bridal party and inform them so that they prepare in advance and come up with ideas on steps, some ingredients they can add in to the wedding.
Determine your honeymoon budget. Select a wedding consultant.
From ten months to six months to go, select and order your wedding gown, head piece, shoes and veil.
Choose the flower girls, page boys, bridesmaids and groomsmen attires for wedding ceremony and celebration. If you are buying already made outfits they can be purchased within these months and if you are having them tailored, it's time to take them to a tailor.
They can choose what they want to wear but make sure you make the final approval because it is your wedding day. Your character and what people know you for should not be lost on the wedding day.
Research and buy a variety of wedding ring styles.
Finalise and pay for your choice of your honeymoon destination, pay for the cake, have your wedding cards designed and given to those invited in time so that they can also prepare in time.
The other things you can do are make an appointment with the hair dresser, let her advice you on the type of wig you can buy and the best hairstyle for that memorable look.
I usually advice brides to use the same hair dresser who knows their hair and not to try someone else who does not know your hair unless your personal hairdresser recommends them to you. All these should be done from the fifth to two months.
We are still counting down and we are almost reaching the wedding day. From six to four weeks this is a time to finalise and make sure everything is going as planned.
If you will be spending the night before your wedding at the matron's house then all the things should be kept there to avoid things getting lost in the clatter.
Three weeks before the wedding is not the time to run up. Finalize the guest list, give the final headcount to the caterer and remind all the service providers that the wedding is going on as planned.
The day of the wedding should be memorable and enjoyed. When you plan your wedding in a year you are assure of having a wedding of your dreams.
On this day eat a good breakfast, attend hairstyle appointment, and give yourself plenty of time to get ready then relax and enjoy yourself. Remember to put up a smile on your face to look good and for the memorable memories.
Make a wedding countdown calendar to help you plan your wedding and add in everything you have dreamt your wedding to be. A wedding does not happen by accident, you have all the time in the world to plan a memorable event.
Comments: and contributions:
Cell: 0966665468
Email: sunittasyabeene@yahoo.com