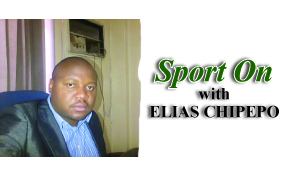 I took time to go through the 24-member list coach George 'Chicken' Lwandamina summoned for next weekend's Gabon 2017 Africa Cup of Nations (AFCON) Group E formality against Kenya.
AS I read through, I noted a few new call ups and returns that are making sense while some are not making any sense at all.
Well, the game against Kenya may not seem to be all that important especially that it has been reduced to a mere formality after the Football Association of Zambia (FAZ) successfully lost the bid to use a boardroom decision to reach the AFCON finals.
But I think it will be important for Lwandamina to use players that will be useful in the Russia 2018 World Cup campaign.
The inclusion of South Africa-based striker Lewis Macha I believe is a good move because the player has proved in the past few years he spent in Mozambique that he is capable of doing the job although club and national levels are different.
His debut at his new club Kaizer Chiefs was not disappointing and I think it is just wise that the player is given an opportunity to prove his prowess at national level.
However, I have my reservations for once versatile midfielder Felix Katongo who until recently, has been out of action for almost two years.
I think Lwandamina should have allowed Felix to gain enough ground for performance at club level before being recalled to the Chipolopolo.
Felix is one naturally talented player but his call up is ill-timed. His full potential can only be utilised after he settles and regains his fitness at club level, otherwise we are bound to bring out the worst in a best player, suffice to say he looks a little overweight.
Mr Emmanuel Mbola is also back, well, maybe Lwandamina is trying to figure out what will best work for him in the World Cup qualifiers if at all he will still be in charge since FAZ has been singing to us about employing an expatriate coach.
A colleague last time asked me if it were right for a coach to summon five players from his club.
In this case, five players have been called from Zesco while league leaders Zanaco have three. And is it possible that the team leading the table can only have three performing players?
I feel we need to get back to the basics and select players on merit and not names or other gains.
It would not help anyone especially with these dwindling standards to continue with such a practice when all people want to see are better results and not giving players a second chance at the expense of those performing in the league.
And talking about the Kenya game, it will be interesting to know how FAZ is thinking of handling this clash because I believe it is not going to be much of a crowd puller since it has been reduced to a friendly.
By the way,  Guinea Bissau fought their case which we thought was going to earn us a favour of qualifying to the Gabon tournament using the back door.
Let us learn to win on the field of play with right players.
Till next week, email eliaschipepo@gmail.com or get me on twitter @eliaschipepo.