Published On July 23, 2014 » 9642 Views»
Features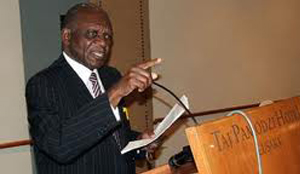 By STANSLOUS NGOSA –
MANY traditional healers in Zambia claim to have found a cure for HIV/AIDS however, so far only samples from three herbalists have been tested for efficacy.
Former works and supply minister Ludwig Sondashi has developed the Sondashi Formula (SF 2000), the Mailacin Formula, has been developed by Howard Maila of Ndola, while Dr John Mayeya has developed the Mayeyanin Formula.
The formulations were subjected to an open observation and exploration clinical trial to validate if traditional medicines can be used to treat HIV/AIDS in November 2005.
These open observational and exploratory clinical studies lasted from November 17 2005 to April 26 2006 where the SF 2000 was found to be the best among the three herbal medicines.
The aim of the trial was to evaluate for efficacy of the formulations, and to establish change in the physical and clinical status of 30 adult HIV positive volunteers who were not on Anti-Retro Viral therapy ARVS .
However, this article focuses on the SF 2000 in order look at what transpired during the first clinical trial because it has been subjected to another clinical  trial at Ndola's Tropical Disease Research Center (TDRC).
Government has contacted three international companies for possible manufacturing of spray dried capsules meant to be used in the clinical trials on the SF2000.
This is because the current form of capsules prescribed by Dr Sondashi cannot be used in a laboratory test.
TDRC deputy director Ray Handema said in an interview that the centre had identified companies from India, China and Africa to manufacture the required capsules.
Dr Handema, who is the Principal Investigator in the SF 2000, said currently negotiations were going on with these companies.
"We have contacted these companies and we want to see which one can give us a good quote for making these capsules, then the whole process should be able to start anytime soon," Dr Handema said.
The clinical trial would be conducted at Ndola' Tropical Disease Control Center (TDRC)
He, however, said the ground work including  that of putting the research materials together had been done.
Dr Handema said all health protocols regarding the research had been cleared and a National Steering Committee on the project has been created.
He explained that the clinical trials was in two phases, the first one being preparation of the drug into capsules while the last one is testing.
At least 45 male HIV negative volunteers would participate in the clinical trial.
They would be selected after capsules have been manufactured.
He, however, said the clinical trial could have started last year in December if Council for Science and Industrial Research of South African were engaged to manufacture spray dried capsules did not withdraw.
However, this is the second time the SF 2000 is being subjected to a clinical trial after late Dr Patrick Chikusu's led project in 2005 under later President Levy Mwanawasa.
Dr Chikusu, who was the principal investigator of clinical trials, was later appointed as Deputy Health Minister under the Patriotic Front regime before he died.
In the year 2003, Dr Sondashi handed over the herbal medicine to Dr Chikusu who was Chairman of the National Technical Committee, on traditional and alternative remedies for testing.
On September 13, 2004, after carrying out the laboratory testing, Dr Chikusu informed then Ministry of Health Permanent Secretary Simon Miti that three herbal samples for Dr Sondashi and other herbalists were assessed for safety and were found to have no toxicity to normal MT4 cells and were found to be non-toxic.
The medicines were tested against HIV Sub Type B and found to be efficacious, by killing HIV Sub Type B at specific dilution which is non toxic to normal MT4 cells.
This is contained in the report made available to the Times which was prepared by the late Dr Chikusu and presented to Dr Miti on September 13 2004.
On October 14 2004, Dr Miti, forwarded the report to Dr Sondashi with a covering letter which read; "I hereby forward the report on the Sondashi Formula from national Aids Council for your use."
It was from this preliminary finding that Dr Mwanawasa obtained funding and directed the National Aids Council (NAC) to give permission to Dr Chikusu, as Principal Investigator, to carry out further clinical observations on this herbal medicine among others.
In a letter dated July 26,2005 by late Dr Mwanawasa to former Health Minister Brian Chituwo, copied to then Finance minister Ng'andu Magande, and made available to the Times, the late former Head of State sourced US$56, 000 for the clinical trial.
"It is true that the US$56, 000 was required for about or more than three herbal traditional formulations including that of Dr Sondashi. Out of the three formulations, however, Dr Sondashi's appears to be the more promising one and it is this reason that I insisted that this US$56, 000 should be made available."
"If the US$56, 000 would indeed cover all the five formulations, I have no objection in all of them being tested. I got the impression though that since we are now dealing with more formulation, the required amount will have to be increased. It is for this reason that I expressed consternation and felt that in that case it is the promising formulation which be worked on using the US$56, 000." The letter read in part.
With regards to Dr Chituwo's request that consideration be given to NAC to carry out research, late Dr Mwanawasa responded; "As far as am concerned I do not care which organisation carries out the necessary research. What we want to know is whether this formulation constitutes a cure."
I regret that from a layman point of view, I see nothing which has been done to demonstrate that there has been any appreciable test carried out on the Sondashi Formula."
As Dr Mwanawasa he consistently informed Dr Chituwo, the former Head of State knew at least five people who were cured of the HIV/AIDS after taking the SF2000 in the sense that they had been tested positive and then they tested negative afterwards.
Dr Mwanawasa said the tests were repeated on at least three different occasions of three months intervals. The negative result has remained constant.
However, according to Dr Sondashi, he was given 10 HIV positive volunteers whom he administered the SF2000 over a period of six months.
These open observational and exploratory clinical studies lasted from November 17 2005 to April 26 2006 where his medicine was found to be the best among the three herbal medicines.
This is according to the letter dated April 4 2007 written by Dr Chikusu, informing Dr Sondashi how his product behaved in these exploratory clinical studies.
According to the letter made available to the Times, the Sondashi Formulation was safe as there was no toxicity which can be attributed to the product.
There was no commonly used anti retroviral noted in the product and the product showed that six out of ten patients increased in CD4 cell count correspondent to viral load reduction.
Clinical physical studies showed increase body weight and appetite and no opportunistic infections such as Meningitis, Tuberculosis, sexually Transmitted Infections and Diarrhoea
Dr Chikusu said it was important that further studies are be made for a larger group and longer period and expected to enter into discussion with Government to further this work.
However, Zambia disputed Dr Chikusu's findings on the move that forced Dr Sondashi to take the medicine to South Africa for a second opinion.
The Council for Science and Industrial Research (CSIR) under the sponsorship of NEPAD welcomed the medicine and carried out laboratory trials both in South Africa and the United States of America.
The findings in both countries confirmed the findings by Dr Chikusu made in Zambia.
According to a report also made available to the Times, research on Sondashi Formula, which was signed by SANBio Network Director Professor Luke Mumba, indicates that SF2000 was effective against both HIV sub-type B and sub-type C.
The reports says the formulation is more pronounced against sub-type C, which is a most relevant type found in Africa.
It also says that the safety studies conducted on the mice showed that there was no toxicity which could be attributed to the product; and SF2000 attacks and kills the HIV virus irreversibly and does so without harming the CD4 cell.
When asked what then happened after the clinic trial he described it as successful, Dr Sondashi said the project 'died' with Dr Mwanawasa.
Dr Sondashi claimed that some embassies whose countries manufacture ARVs had threatened  Dr Mwanawasa that their respective countries would withdraw donor support if the Government continued to support the SF2000 because it had the potential to frustrate the ARV business.
"This is the external factor that contributed to delaying the SF 2000 to hit the market because it could have pushed the ARV business out of the market," Dr Sondashi said.
On internal factors, Dr Sondashi said being a politician and leader of a political party, his opponents thinks he could use the SF 2000 to campaign for presidency.
Dr Sondashi said he is ready to sell the Intellectual property to the Government if is approved so that it become its property and benefit more Zambians.
On the economic benefits Dr Sondashi had this to say; "Let us think of the benefits that the SF-2000 can bring to our economy. Think of the many countries where people are afflicted with HIV/AIDS, All those countries are potential clients and would willingly buy the SF-2000. I think the SF-2000 benefits out-weight those of donor funding in the long-term."
Dr Sondashi, however, argued that South Africa did not pull out of the deal intended to prove whether his Sondashi Formula can cure HIV, instead, he did.
He says the country wanted 70 per cent ownership if the drug's efficacy was proven, a deal he rejected.
However, in the event that he died, what happens to the intellectual property, Dr Sondashi said he has taught his wife and children who could carry on with his legacy.
The SF 2000 is an herbal medicine which has clinically been proved to have the potential to cure HIV/AIDS, and has been administered to over 400 patients. Dr Sondashi, founder of the medicine, explains that he was inspired to start researching on the possible cure for HIV and AIDS after his son was diagnosed with the HIV virus.
Dr Sondashi has claimed on various media platforms that the medicine has so far been administered to over 600 patients who took it for a period of over six months to one year, and have been cured of AIDS.
In an interview with Teddy Sekwila, one of the participants in the 2005 clinical trial, claims the herbal medicines could cure HIV/AIDS although he was not cured because he needed more than six months to take the medication.
Mr Sekwila said his health was in bad shape before he started taking the SF2000 but within three weeks reduced his viruses from over four million to less than 300.
"My health improved tremendously, so if had continued and completed the course, I could have recovered like my friends," Mr Sekwila said.
Mr Sekwila said he was ready to start the SF 2000 but he could not afford to buy the medicine and complete the treatment.
Mr Sekwila said it was unfortunate that after the six months of the clinical trial elapsed, there was no follow up either by Dr Sondashi or the National Aids Council(NAC) to find out what had happened to the people that participated in the trial.
With all said and done, let Zambians wait for results of the clinical trial, who knows, the SF2000 could be the solution to the many challenges the country is facing in relation to the HIV aid disease burden.