Published On January 11, 2014 » 3324 Views»
Features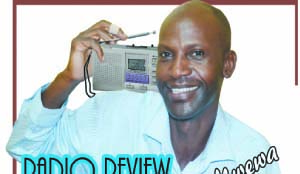 I LISTED what I thought were some exceptional voices that captivated radio listeners past and present, and then came a myriad of observations reminding me of other equally great names I could have missed out.
Venus wrote from Ndola that; "Jack, I have been an ardent radio listener for over 25 years; I enjoy reading your column.
Your list about exceptional voices on radio was good, but it is incomplete or I should give you the benefit of doubt depending on the criteria you used.
Surely, the golden voice of DJ, CJ Chella Katwishi dominated radio in the 1990s, Frank Mutubila changed radio talk-shows, Moses Nyama brought the accented era of fast-talking DJs, Isaac Mulinda and Mike 'Maverick' Taboh had voices within voices, what about Francine Chileshe, Sylvia Bwalya, Royd Mbewe and Zachariah Chavula related to Traffic Watch."
Venus went on to say that he appreciates this column's analysis and feels it is shaping most radio stations. Like me, Venus prefers to listen to radio than watch television.
Clara wrote from Kitwe that; "Hi Jack, It is always good to read your articles, 'Exceptional voices topic made good reading, you hit the nail on the head, in my opinion, you should have included DJ Dazzle, Hebert Mutabi whose voice is best for rhumba, I also appreciate your tips."
Several other observations referred to almost same names above, except for a few that mentioned new comers from some community radio stations.
PHOENIX
I have heard news readers on Radio Phoenix refer to United Party for National Development Member of Parliament Vitalis Mooya as a 'qualified civil engineer by profession', whenever they quote him.
I feel that it is not necessary unless because almost all news sources are professionals in their own rights who if credited as such would sound cumbersome.
Any other engineer is qualified and a profession in that field, and there are many professions who comment of matters relating to their fields, yet no mention of them as 'qualified lawyer, qualified economist, qualified medical doctor or qualified soccer coach is obligatory.
AKALE KESU
It took me a while to realise that Saturday January 4, was national mourning in hunour of Mufulira District Commissioner Beatrice Mithi.
On that day, I was tuned-in to Radio Phoenix expecting Blaze and Panji to present their nostalgic 'Akale Kesu' programme which never came forth. The programme being of entertainment nature could not be aired.
YAH FM 89:5
My 4-Band Sharp Radio surprised me when it picked Yah FM Radio on 89:5 in Ndola. I tuned in at a time of 'Kankalidwe' programme where Mrs Daka was giving tips on how to plan for 2014.
Her advice was precise that one needs to write down and pin his/her resolutions for constant reminder, so that, by looking at them, would be reminded.
I enjoyed what I heard; a Fast-talking presenter called Jonathan, Mrs Daka was also impressive, a good and steady speaker.
One caller however, argued that it was not for human beings to make plans, but that God has plans for us.
What followed after that discussion was music and music from 09:00 to 12:00 hours, I thought in broadcasting, time is money; another programme could have done well in that slot.
Chary Chileshe read news, a good reader she is!
QFM – (Africa's modern radio)
DJ Iconic was on air when I stumbled on QFM's 'Early Night show' at 20:30 hours where good music dropped in succession.
RADIO 1
Ifilecitika kumi koti (Activities on the Copperbelt), a Collins Kasalamuna bemba presentation from Kitwe studio should have more topics than just one item featured on December 31, Tuesday 13:30 hours.
If the programme is about highlighting activities happening on the Copperbelt, then there is no course to feature only one item to take the entire 30 minutes.
RADIO 2
Kawanu Mujina's signature tune is a song called 'Jesus must be hunoured' it is an appealing gospel reggae tune which always leaves me want to hear more and more of it. On January 3, at 20:00 hours, Kawamu 'the handsome don' played the song in full to my delight.
RADIO 4
You should have heard Justin Kawisha take over on Radio 4, Sunday January 5 at 20:00 hours. Great take over! I heard a different Justin, sounding lively, improved and confident as he did vibes. The music in the background perfectly flowed and his voice commandeered as he introduced himself and credited the out-going deejay who was Marian Chigwedere
TIPS
A dramatic scene in radio takes place-like a painting or drawing-in one plane. It is unreal. But the illusion of reality can be created by careful thought and skilled microphone placing.
This is achieved by having lines spoken and effects played at different distances from the microphone, and by having the actor move away from or closer to the microphone while speaking.
When an actor moves away from a directional microphone while speaking his voice creates a spatial effect by exciting the studio resonances; an altogether different effect is produced if he moves to the side and speaks into the dead area.
In planning, perspective effects it is important to remember that things which happen at the same time must happen in the same acoustic perspective.
If two players at a microphone are supposed to be having tea together, their speech and the clatter of the cups must be in the same acoustic plane.
If a friend calls to see them and knocks on the door, the sound of the knocking must be more distant. If one of the players then goes to open the door we must be made aware of his movement away; he can for instance talk to the other player while moving away; the door must then be opened off microphone, the new arrival greeted off microphone and then brought on to the microphone while talking. Ill-considered perspective effect5 can distract the listener and leave him dissatisfied with what he has heard.
MULTICHOICE NEWS FLASH 
African Presidents
#DStvSeries
Sunday 12 January 12, 2014 20:00 | AfricaMagic Entertainment (150)
From Egypt to South Africa, From Ivory Coast to Mozambique, the series, African Presidents brings great stories about the countries and an exclusive interview with their head of state.
In this episode the focus is on Cape Verde.
Catch African Presidents Sundays at 20:00 on AfricaMagic Entertainment. 
Maggs On Media
Sunday 12 January 2014 10:30 | eNews Channel Africa (403)
Maggs on Media is a powerful digest of media issues and topical advertising. This 25-minute weekly programme features the good, the bad – and the newsworthy of the media world. Presenter Jeremy Maggs' extensive experience in the media industry makes him an informed facilitator of discussions on issues facing the media. 
Regular insights from leading local and global thinkers, means viewers are exposed to trends affecting brand communications and the new technologies driving them. And it's not a one-way broadcast – active social media communities share their thoughts on programme content and often influence what is covered on the show.
Maggs On Media is on Sunday January 12, at 10:30 on eNCA.
For comments, observations and contributions; jackmwewa@gmail.com – 0955115777