Published On November 18, 2021 » 304 Views»
Features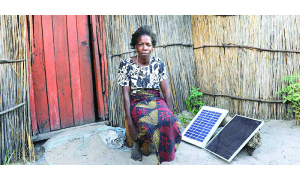 By JOWIT SALUSEKI-
AS access to electricity remains a challenge for millions of Zambians, most households are currently turning to solar energy as an alternative to the Zesco-generated and supplied electricity.
Solar energy is a natural alternative for a country like Zambia that benefits from all year-round sunshine.
But the cost of simple solar kits for domestic use is at an average of between K6, 000 and K10, 000 in some selected outlets in the country.
Others can cost as much as K160, 000.
While some figures may sound 'cheap' to some individuals who can afford, the amount is way beyond what an average Zambian can manage to pay for most affordable solar kits on the market.
A simple solar kit will basically include solar panels, an inventor, and medium sized battery, among other accessories.
It is worth stating that energy experts believe that the country has an average of between 1,500 to 4,000 hours of sunshine per year.
Currently, only a fraction out of more than 18 million population has access to Zesco-supplied electricity.
Zambia's shift to solar is not new, but is accelerating as a result of the crisis in hydropower in recent years.
The Rural Electrification Authority (REA), which is tasked with electrifying rural areas, so far has undertaken various solar home system projects in rural communities across Zambia.
However, having a significant number of people accessing affordable renewable energy such as solar can be the game changer in social-economic development.
In developing solar generating capacity, Zambia can be at par with other countries on the continent in terms of Pan-African trend on renewable energy.
Thus in a bid aimed at cushioning the price of solar kits on end users , the Government has proposed to zero-rate Value Added Tax(VAT) on solar products in next year's budget.
In announcing the 2022 National Budget recently , Finance Minister Situmbeko Musokotane said: "Madam Speaker, to promote the use of alternative renewable sources of energy, I propose to zero-rate the Value Added Tax on Solar Charge Control Units and Solar Street Lights. This measure will result in revenue loss of K54.0 million".
It is worth noting that apart from the Government pronouncement, a range of outside investors is aiding Zambia's shift to solar power.
The Swedish government's Beyond Grid Fund for Zambia cooperates with Zambian partners to increase energy access and develop energy service markets.
The African solar photovoltaic market could grow to as much as 30 gigawatts by 2030, doubling the current capacity, according to a 2019 report by the German Solar Association (BSW-Solar).
There are other investments in decentralised renewable energy projects supported by the European Union (EU), Germany, Sweden, the Netherlands and Austria.
The World Bank's "Scaling Solar" programme also mobilises private funding for solar generating projects.
The shift to solar is giving rise to a related industry in solar-based appliances for homes, farms and other businesses.
Urban shops and market stalls sell a wide range of solar-powered appliances, including water pumps, geysers, solar power-supply banks, mobile phone chargers and lights.
Demand for solar related products has gone up in the country ever since power blackouts started a few years ago.
Even energy firm Total Zambia has some of its filling stations powered by solar.
Individuals selling solar kits are also cashing in on the products.
Goliath Malembeka, a resident of Masaiti district, supplies solar-powered equipments to residents on the Copperbelt.
He says selling solar-powered equipment has given him an edge as he started small but now he has opened other outlets selling various solar powered kits.
The customers are equally impressed.
"I cannot believe how solar energy has improved my life after years of living without electricity at my farm," said Chola Kalima,60, a peasant farmer of Masaiti district.
The energy deficiency which has resulted in people switching to solar is not limited to Zambia only.
African countries have received little attention but offer huge potential for change in the solar energy sector.
Based on the policies countries currently have in place, the Institute of Economic Affairs (IEA) expects Africa's CO2 emissions to almost double to 2.5 billion tonnes by 2040, versus the United States (US) reduction from 5.4 to 5.1 billion tonnes.
As earlier stated, whereas power use has plateaued in more developed countries, half of Africa's 1.2 billion population is without electricity hence turning to solar energy.
African countries such as Zambia are well situated for most forms of renewable energy, but possibilities for solar stand out given its proximity to the equator and dry sunny days (and therefore high irradiation levels).
The German Aerospace Centre, an authority on engineering relating to renewable energy, has estimated that a solar farm covering just 0.3 per cent of North Africa could supply the entire European Union's (EU) power demand, which is twice that of Africa.
Currently, the main sources for the region's energy—coal, oil, and traditional biomass (wood, charcoal, and dry dung)—are associated with severe environmental and health damage.
Designing an energy mix largely reliant on renewable energy would simultaneously support strong growth, low emissions, and ecologically sustainable development.
Given that technological advances in energy storage have mitigated supply fluctuation issues with renewable energy and, thus, bolstered its reliability, financing renewable energy in Zambia should be on the lips of the Government and its co-operating partners.
The high upfront cost of renewable energy necessitates greater capital expenditure.
Solar energy's cost advantage over other energy sources is likely to grow as technologies develop and local infrastructure improves.
The growth of solar provides a real-time case study of the nation's technology economic attractions as well as its environmental benefits.
Subsidizing the price of solar kits will enable most Zambians in rural and peri –urban areas to have access to cheap, clean and affordable energy.