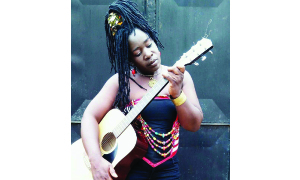 By JOWIT SALUSEKI –
AS the 16 Days of Activism Against Gender Based Violence (GBV) comes to an end today, celebrated songbird Daputsa Nkhata, alias Sista D, has released a new song titled 'Woman Blame.'
The Lusaka-based songbird, famously known for her run away smash hit single – Vitendeni – back in the days, has unlocked yet another amazing song in Woman Blame, a track which was offloaded on the market recently.
The song aims at countering acts of GBV against women.
It says a woman needs to smile and should be loved.
Woman Blame is a song that talks about how society wants to always blame a woman for every misfortune that happens in the public.
The three minutes and 25 seconds-long track was produced by Kaza One.
Sista D has been popularising the song on various television and radio stations in the country.
A few days ago, the dreadlocked singer, who is married to reggae artiste Maiko Zulu, courted ZNBC TV1 for an interview where, apart from performing the song, she also belted out Vitendeni.
Sista D is an award-winning musician who is also a women's and children's rights activist.
Together with her husband, she also runs some businesses at the couple's farm located on the fringes of Lusaka, off the Great North Road in Kabangwe area.
Sista D's professional music career began in 1996.
She has six albums to her name.
These include Makhaladi, Chimubabe, Mangani Zip, Step Father, Nsima Ya Pa Malilo and Mulomo.com.