Published On December 18, 2021 » 2317 Views»
Features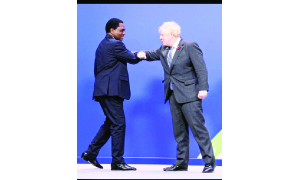 By ABIGAIL CHAPONDA –
For sure, the recent Conference of Parties (COP26) was the latest and one of the most important steps in the decade's long United Nations (UN) facilitated efforts to help stave off what has been called a looming climate emergency.
In 1992, the UN organized a major event in Rio de Janeiro called the Earth Summit, in which the UN Framework Convention on Climate Change (UNFCCC) was adopted.
In this treaty, nations agreed to stabilize greenhouse gas concentrations in the atmosphere to prevent dangerous interference from human activity on the climate system.
Today, the treaty has 197 signatories.
Since 1994 when the treaty entered into force, the UN has every year been bringing together almost every country on earth for global climate summit or "COPs", which stands for 'Conference of the Parties.'
This year should have been the 27th annual summit, but thanks to COVID-19, we have fallen a year behind due to last year's postponement – hence COP26.
Ii is important to note that at the leaders' summit, COP26 brought together about 50,000 participants online and in-person to share innovative ideas, solutions, attend cultural events and build partnerships and coalitions.
The conference heard many encouraging announcements.
One of the biggest was that leaders from over 120 countries, representing about 90 per cent of the world's forests, pledged to halt and reverse deforestation by 2030, the date by which the Sustainable Development Goals (SDGs) to curb poverty and secure the planet's future is supposed to be achieved.
There was also a methane pledge, led by the United States (US) and the European Union (EU), by which more than 100 countries agreed to cut emissions of this greenhouse gas by 2030.
Meanwhile, more than 40 countries – including major coal users such as Poland, Vietnam, and Chile – agreed to shift from using coal, one of the biggest generators of CO2 emissions.
The private sector also showed strong engagement with nearly 500 global financial services firms agreeing to align US$130 trillion – some 40 per cent of the world's financial assets – with the goals set out in the Paris Agreement, including limiting global warming to 1.5 degrees Celsius.
Also, in surprise for many, the US and China pledged to boost climate cooperation over the next decade.
In a joint declaration, they said they had agreed to take steps on a range of issues, including methane emissions, transition to clean energy and decarbonization.
They also reiterated their commitment to keeping the 1.5C goal alive.
Regarding green transport, more than 100 national governments, cities, states, and major car companies signed the Glasgow Declaration on Zero Emission Cars and Vans to end the sale of internal combustion engines by 2035 in leading markets, and by 2040 worldwide. 
At least 13 nations also committed to ending the sale of fossil fuel-powered heavy duty vehicles by 2040.
Many 'smaller' but equally inspiring commitments were made during the two weeks priod of COP26, including one by 11 countries which created the Beyond Oil and Gas Alliance (BOGA).
Ireland, France, Denmark, and Costa Rica, among others, as well as some subnational governments, launched this first-of-its-kind alliance to set an end date for national oil and gas exploration and extraction.
120 world leaders gathered in Glasgow, Scotland, in the United Kingdom (UK) to kick start a time-enhanced climate action.
Leaders were joined by civil society, international organizations, businesses, and youths to mark the start of the 26th UN Climate Change Conference of the Parties.
The UK hosted the 26th UN Climate Change Conference of the Parties (COP26) which happened from October 31 to November 12, 2021.
The COP26 summit brought parties together to fast-track action towards the goals of the Paris Agreement and the UN Framework Convention on Climate Change.
Like many countries, Zambia affirmed her willingness to support and work closely with the global community in resolving climate change.
Addressing the conference, President Hakainde Hichilema said Zambia was ready to reduce emissions by 47 per cent if adequately supported by world leaders and global partners.
President Hichilema said it was gratifying that world leaders collectively had agreed to take decisive action to prevent the negative impact of climate change.
"For developing and vulnerable countries like Zambia, which is among the least developed countries with multiple challenges, climate change brings an additional layer of challenges and aggravates existing ones. Climate change makes it difficult for countries to effectively address several socio-economic challenges in order to lift citizens from high poverty levels," he said.
President Hichilema said for the sake of humanity, a positive outcome from the conference was not an option, but an absolute necessity.
He expressed confidence that the global community would share the sense of urgency.
He said if there was any lesson to be learned from the COVID-19 pandemic, it was the need for collaboration on this shared planet in order for countries to secure mutual safety and success.
President Hichilema reported that in July 2021, Zambia submitted a revised and updated nationally determined contribution to the Paris Agreement, spelling out its ambitious efforts.
"We have pledged to reduce greenhouse gas emissions by 25 per cent based on the 2010 levels by 2030, using a combination of our own domestic resources and other support that we have traditionally received," he said.
MrHichilema said there was need for support with technologies and the capacities that the world needed to shift from carbon-intensive development paths to low carbon green economies; placing a premium on adaptation measures and the support required to ensure that lives and livelihoods of the most vulnerable people on the planet were safeguarded.
He said this would also to protect natural ecosystems and resolve the remaining technical bottlenecks that were delaying countries from unleashing the full potential of the Paris Agreement.
UK Prime Minister Boris Johnson said he was pleased that more leaders than ever before had made the landmark commitment.
"We have to stop the devastating loss of our forests and end the role of humanity as nature's conqueror, and instead become nature's custodian," MrJonhson said.
Zambia's Green Economy and Environment Minister Collins Nzovu said the country was elected to chair the African Group of Negotiators at the 26th UN Climate Change Conference of the Parties.
This put Zambia in the limelight in resolving the climate change crisis.
It is a huge responsibility for Zambia especially that the next UN Climate Change Conference of the Parties will be on African soil in Egypt.
Therefore, Zambia will be expected to steer the African countries to highlight the continent's priorities in the negotiations.
Zambia will chair the African Group of Negotiators (AGN) for two years.
The AGN is a group of all 54 African countries that enables the continent to negotiate as one single bloc during climate change negotiations.
MrNzovu expressed happiness at Zambia's election, saying this was a clear testimony that African countries had confidence in President Hichilema's New Dawn Government.
"This success has been made possible through the excellent branding of the Zambian
delegation at the COP26 starting with several engagements that President HakaindeHichilema and his two ministers undertook before leaving the few technocrats to continue with the work," MrNzovu said.
The minister assured Zambians and the international community that the country is equal to the task and ready to take up this responsibility and will represent all African states with commitment without living anyone behind.
MrNzovu also expressed gratitude to 10 Southern African countries that endorsed and presented Ministry of Green Economy and Environment Director of Climate Change and Natural Resources and Zambia's National Focal Point under the United Nations Framework Convention on Climate Change (UNFCCC) Ephraim MwepyaShitima as the candidate for Zambia.
As the continent's new lead negotiator, MrShitima will take over from Mr Tanguy
Gahouma of Gabon.
The next COP conference in Egypt would be Zambia's maiden opportunity to preside over the African Group in negotiations.
(The author is first secretary for press at the Zambian High Commission to the United Kingdom).-ZANIS.