Published On January 3, 2022 » 1876 Views»
Others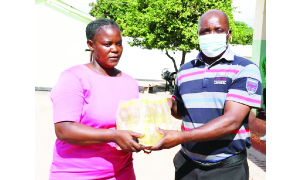 By MUNAMBEZA MUWANEI –
PRISON Leopards players and officials opted to celebrate New Year's Day by sharing various food stuffs with inmates at Mukobeko Maximum Female Correctional facility in Kabwe.
The players had some made contributions and raised K6000 which they used to buy various food items to give female inmates at the weekend.
Team Manager Kebby Luchanga said in an interview that the festival period was about giving hence the donation by the club.