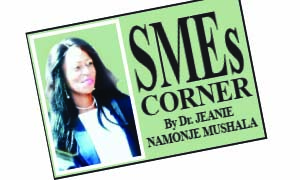 PERHAPS repositioning yourself in the 21st century requires every entrepreneur to set goals, work out action plans, develop their vision and define their dreams as well as developing the right attitudes.
When these things are in place then you are good to start your business with a hope of achieving the set goals.
Today's article delves into what most entrepreneurs are doing today now than it was two decades ago.
This has been triggered by the scarcity of employment particularly in developing countries.
Small and medium sized businesses are being given much attention now because of the positive impact they have on a country's gross domestic product.
Ideally when you have passion for business, you tend to develop great ideas that poke you to be more innovative. This is a clear sign that shows that you ought to follow your intuition to immediately attempt to start working on your project without fear.
Today many entrepreneurs have embarked on businesses that are aligned to market conditions and the common ones are:
1.Poultry farming – There are mainly three dimensions of poultry farming which range from layers, free range (village chickens) and broilers.
Although this sector is on the increase and thriving so much in Zambia, the market is becoming saturated because everyone has seen great opportunities in this arena and the setup is not complex.
However, it requires resilience and commitment.
For instance, when the chickens mature or outgrow their usefulness, it is only prudent to sell them as quickly as possible, failure to which might end you up into making losses.
When you keep stock that keeps consuming a lot of feed even at maturity, it creates unnecessary costs which ultimately eat into the profit.
Such kind of businesses requires having ready market such that as soon as they are ready, they are sold off without delay.
2.Grocery – We all encounter times when our household supplies run out and need to be replenished as soon as they finish.
The idea to have a shop in a nearby street to target local people in their respective communities is a good idea considering that there is ready market.
This applies to quick shop owners who target the same market and other similar one stop shops making it convenient for customers.
3.Hair salon – Similarly, salons are strategically located within the communities to tap into the market in their local areas.
This is also convenient as customers do not have to go far to have their hair done.
4.Mobile money agents – More and more entrepreneurs are positioning themselves as mobile money agents because of the high demand for this service particularly in high density areas.
This creates room for the unbanked to have access to financial services even in far flung areas.
Life has been made easy by the mobile money services that are being offered everywhere and anywhere where there is a high population.
It is not only affordable but a convenient way of transacting.
5.Money lenders/sharks – In the recent past, money lenders/sharks have mushroomed from the blues to target those who have limited access to bank loans.
They are now competing with smaller banks and financial institutions in the provision of this service.
6.Restaurant/service industry –There is a belief that with food, you cannot go wrong because we all need to eat to survive.
Tapping into this market is a good business idea which is easy to start especially if you have passion to cook. One can start this type of business with very minimal capital and still grow the business over time.
For one to prosper an imaginary vision of what you want to achieve and where you want to be in business must be a priority.
Always consider forward looking while making responsible commitments and a starting point to commence your business thereby shaping your future in the right direction.
Success is provoked by developing a wining feeling without positivity, you are likely to fail.
Sometimes, we are limited by our thinking that we cannot do it.
However, the most rewarding things we do in life are often the ones that look like they cannot be done. In life what we normally expect is what we get.
Spiritually, this is what is known as having faith even when you do not see or know the outcome.
Expectations open doors when the process of hard work is followed religiously.
When the business begins to grow, do not restrict it from expanding and permeating to other boundaries, when this is done, it does not only decongest markets that are saturated but pave way for new entrants.
However, in business the race is for the swift, just like many athletes participate and compete in a race after training so hard, despite all their effort, not all emerge as winners but there is always one winner.
This principal applies in business as well, it favors agile enterprises.
The common types of businesses mentioned above do not necessarily require skill and experience but over time you learn how to go about it.
It is obvious that the beginning is not as easy as it sounds, mistakes are made but we learn from those mistakes.
There is absolutely nothing to be gained by not being eager to start a business, so why not consider it.
Make a motto that says I can do it.
However, do not allow adverse effects turn you off from continuing.
One setback cannot determine the future of your business. Your positioning precept must be to visualise desired outcome and work towards your vision.
For Comments: email jeanmushala@gmail.com
Mobile: 0976132835
The author is a seasoned banker, has a Bachelor of Arts, honours degree in Business management/a Master of Business Administration from University of Sunderland (UK) and has a Doctorate in Business Administration from the Atlantic International University, United States of America (USA).