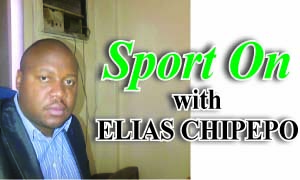 IT is sad that our women's national team were for a third time embarrassed in another visa fiasco.
And this something that cannot be entertained anymore and someone should be answerable for this.
This does not only continue to question the operations at Football House but puts the reputation of the country in an embarrassing position.
I thought by now, FAZ would have learnt lessons after what happened to the Great Britain and Netherlands friendly matches that collapsed due to visa glitch issues.
One wonders if any seriousness is attached to ensure all is in place before these exciting statements are issued concerning these friendly matches.
I say so because an association should with great competence be thorough and meticulously plan for these trips, looking at the entry and health requirements needed to fly to a particular country.
And of course, there is the issue of liaising with the host country while involving the various wings of government to give advice on travel requirements.
This is all basic lesson in public administration 101 that the assigned person at Football House is failing to do.
This trend is demoralizing to the girls and is being played out without any shame in the public domain.
With that said, I doubt if any countries will start taking us seriously when we request a friendly with them because they will just think these are jokers who fail to organise visas.
The girls need the World class preparations they can get with strong sides but if these visa hitch problems continue.
I wonder or should I say even afraid now if the team won't even be stopped from going to New Zealand and Australia for the World Cup because of the same reasons.
It is high time Football House took these matters seriously and avoid these embarrassing moments where the girls who were geared for the outing only to be turned back at the airport.
Someone somewhere is not doing his or her job properly and action needs to be taken against that individual because next time the matter will be more grievous than the past three fiascos.
One just prays are everything is been done in the background to ensure the necessary documentation for the World Cup has been done to save us the embarrassment of missing the competition.
We suffered enough drama from the AFCON draughts and let's end this by ensuring all is put in place and ensure our athletes compete in these competitions they have qualified for.
#
SO the recruitment process for the next Zambia coach is underway with the same familiar names throwing their famous names in the hat but sadly it is not very inspiring news.
Maybe in the well-publicized name-dropping, there are some hidden names with better qualifications and track record to help inspire the Chipolopolo to clinch an Africa Cup slot.
As sports minister Elvis Nkandu observed, FAZ should not be in a hurry to just employ someone as coach but should do an introspective of what happened the last time an expatriate or Zambian coach was engaged.
A critical review of past coaches should be key towards selecting the next Zambia coach.
Sadly, again options look slim especially when one looks at the carrots that will be dangled monthly.
Still, expectations will be high as fans eagerly wait to see who the next coach will be…someone with the very huge job of turning around the fortunes that have befallen our beautiful game such as AFCON qualification that has become a far-fetched dream.
Have a blessed sporting weekend and lets interact via email eliaschipepo@gmail.com