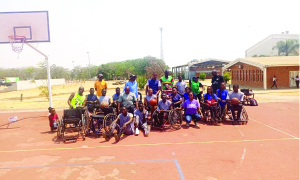 By MOSES CHIMFWEMBE-
WITH the 2023 Ghana All Africa Games and 2024 Paris Paralympics qualification on cards, the Global Sports Mentorship Programme (GSMP) has embarked on a wheelchair basketball talent identification programme (TIP) to beef up the national teams.
The GSMP Alumni Chipasha Kapela said during a one-day training clinics at OYDC-Zambia in Lusaka yesterday that time was ripe for wheelchair basketball in Zambia to make a strong statement on the continental and global stage.
Kapela said the training that drew 30 participants from Kabulonga and Discare sports clubs was aimed equipping them with necessary skills to grow the sport at community and school levels, where the national teams could tap from.
"We are making headways and so far so good. Our ultimate goal is to ensure that we have more clubs for wheelchair basketball Kapela said."
"We are also motivated by the fact that a number of people are willing to take part in wheelchair basketball, hence we want to ensure the sport is present at the grassroots for all kids to an opportunity to participate in the sport," Kapela said.
She said those trained would be expected to practice their skills by forming clubs that will be supported
One of the participants from Kabulonga Boys secondary school Kelvin Musongo said he was excited to learn more as he aspired to represent Zambia in wheelchair basketball at the international stage.
"It has been a really great moment for me to undergo this training and I have learnt a lot of things that I will apply to take wheelchair basketball to another level," Musongo said.