Published On March 2, 2023 » 511 Views»
Features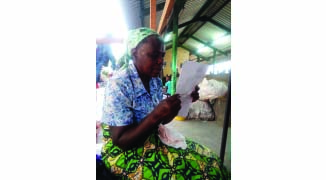 By JESSIE NGOMA-SIMENGWA –
It is 18:00 hours and traders at Chisokone Market in Ndola are packing up preparing to go home after a long day's work.
The market that accommodates transporters is busy during this hour as commuters rush to board their buses going to different destinations.
The manicurist who also trades in second-hand clothes calls an elderly woman to come and pick her choice from the stock.
Bana Anna, as she is popularly known by the market traders, is back from her usual routine and has to prepare her home in the market stalls.
Something about her looks catches my eye on this evening as every trader in the market greets while while others say bye to her. 
Unfortunately, bana Anna, who cannot remember how and why she has been living in the market, does not have a family.
One of the traders, on condition of anonymity, says the old woman has been living in the market for a good number of years,
''Some of us who were chased from the streets and located a place in the market found her already living in the market. She sleeps under the market stalls after the traders pack their merchandise and this is what she has called home for a long time," says the trader.
"She receives clothing and food from traders within the market and streets as she has become a part of this place."
A major challenge for those living on the street is staying clean as when you have no home or income, finding a place to shower can be difficult.
But for Bana Anna, the fee-paying public restrooms to wash up are free as she is known by the women who attend to the female ablutions and just from her looks, one can tell how she manages her body very well.
As I continue to ask her a few questions, the response and expressions give a clear picture of a woman who could have been affected with either dementia, depression or an abandoned wife with a mental health challenge.
For Bana Anna, it is difficult to know because she cannot explain her circumstances clearly but looks happy with her current home in the market.
However, all she remembers is that she was a happily married woman in Solwezi , North-Western Province and had children among whom was a daughter Anna.
Similarly, one moment she pauses when asked questions and later continues to speak with an expression of emotional pain in her tone.
Despite failing to explain her current circumstances clearly, she looks happy with the current shelter in the market although she says she is willing to go to a decent place if someone can offer her.
Interestingly, she gets attracted to a piece of paper in my hand and after she is asked if she can read and write, she also remembers her husband's name and spells a name "Mweuluka".
In addition, she says his other name was Kennedy and speaks about a daughter who got married and other children though she has no clue about their whereabouts.
She talks about how at some point, her husband and family shifted from Solwezi to Mukinge Hospital area then forced to go to the village.
At another point, she lets out a quick sigh and starts speaking in Kaonde.
The story of bana Anna is a sad one considering the sexual abuse that street girls are said to experience from adult street boys and other night patrons.
Unlike both the visually impaired and able-bodied women begging on the streets of Ndola who have homes in Nkwazi, Chipulukusu and Kangonga where they retire too late in the evening, for bana Anna the story is different.
She also collects water for people who own salons and restaurants around the market area and uses the money for her upkeep to sustain herself.
In addition, one of the social challenges I have observed in the last five years, is an increase in mental health cases which has emerged as a major public issue, with the focus on older women and young girls roaming the streets both in town and residential areas.
Homelessness too is a complex issue for them as their families fail to cope with the mental challenges they are facing hence, at some point, they are neglected, abandoned or eventually lost out of sight.
Even so, for bana Anna, one would be worried about the safety of an old woman who looks to be in her early 70s and to think that for years, no family member has come forward to claim her, should be a concern for the public.
One is compelled to further think about the petty thieves who sneak into the city centre at night and some unreasonable watchmen who may want to take advantage of such a vulnerable old woman.
Although some traders say her safety is guaranteed as the market is secure, unlike sleeping in an unfinished building, there is a need for relevant authorities to find a secure place for her.
Old women generally have few needs and need nothing more than a safe, affordable and permanent place but their welfare needs to be looked at.
Bana Anna continues to be a tenant in Chisokone Market because there has never been a media article or a police report from North-Western Province about a missing woman.
The old woman is willing and appealing to people who are willing to offer shelter where she can live.
For now, the day is business-as-usual as she draws water around the market area in the CBD to earn a living.