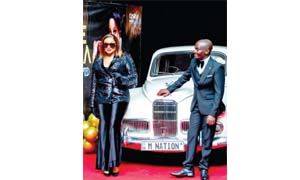 By JOWITSALUSEKI –
CONTROVERSIAL local celebrity Mutale Mwanza's long-awaited reality television show dubbed Mutale Mwanza: Unscripted finally premiered on pay TV last Sunday.
The reality show which is being aired on Zambezi Magic channel every Sunday is featuring social media influencer, TV host and entrepreneur Mutale Mwanza.
The first of the 13 episodes premiered on April 9 at 20:00 hours.
If the public think they know everything there is to know when it comes to Mutale Mwanza, they have to think again.
In the 13-episode series in which she is also executive producer, viewers are getting a treat as they delve into Mutale Mwanza's real world, where she unpacks a side of her that the public is yet to encounter: unscripted, raw and original.
Announcing the start of the TV programme, Zambezi Magic channel head, Mosibudi Pheeha said: "Our viewers are judicious and curious, and their range of interests means that we are able to have a channel that has diverse content.
"Reality shows are popular and resonate well with our audience, we are excited to grow this genre offering with a show that gives us a true glimpse into one of the most well-known celebrities in the country. We look forward to seeing how viewers connect with it".
Energetic, electric and no stranger to controversy, behind the hashtags is a different Mutale who is cool, calm and collected.
Mutale Mwanza: Unscripted is a chance for people to get into her personal life and learn more about her through her own words, not through the lenses of others.
According to Pheela, the series will show that beyond the controversial headlines, there is a human being wearing many hats and juggling many roles – and it's not always easy.
The season will delve into her family dynamics, romantic life, close friendships, and how she tries to strike a balance between family life and fame.
The series will tackle the industry rumours, too (is she really 'difficult' to work with?) and also see how she relates to others on a professional level.
Parenting, of course, is a hot topic: what's it like when your mom is one of the most famous women in Zambia?
She is a mother of a boy child.
The show will unpack Mutale Mwanza beyond the one million Facebook fans and 345k Instagram followers, and beyond the dramatic headlines.
On Friday last week, there was an invitation only for a pre launch of the reality show in Lusaka.
The event was attended by various media personalities and a legion of local celebrities in the entertainment industry.