Published On April 22, 2023 » 1648 Views»
Features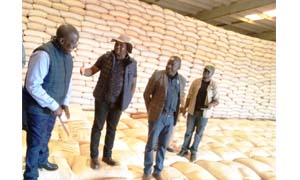 By JULIUS PHIRI –
AGRICULTURE and food security has a strong political attention and commitment in Zambia as evidenced by the participation of high-level decision-makers in food security policy.
Agriculture provides the main support for Zambia's rural economy.
Because of this, growth in the agricultural sector is the clearest avenue through which poverty reduction could be achieved in Zambia.
The ability of the agricultural sector to sustain broad-based, pro-poor development and food security is intricately linked to the priorities and actions of the public sector.
Policy priorities do tend to exhibit a desire for sustained agricultural development through agricultural diversification, improved productivity and rural income growth.
It is a well-known fact that Zambia has continued being food secure in spite of the ravaging storms that washed away some crop fields in the just-ended rainy season.
Currently, Zambia has 300, 000 metric tonnes of white maize in strategic reserves expected to last until the next harvesting season.
Out of the 300,000 metric tonnes, Eastern Province has an estimated total of 116, 928.70 metric tonnes.
The next harvesting is not far away and the Food Reserve Agency (FRA) has announced that it will start buying the crop by the first week of May 2023 from farmers across the country.
The FRA was created through the Food Reserve Act, Cap 225 of the Laws of Zambia to administer strategic food reserves, engage in market facilitation, development and management of national storage facilities.
Zambia remains certain of stocking adequate food to meet the national requirements should the farming season become difficult due to floods or droughts.
"We are food secure as a country. We have enough stocks in our reserves to last this season. People should not panic," said FRA board chairperson Kelvin Hambwezya during an inspection of storage facilities in Lundazi, Lumezi, Chikomeni and Mwasemphangwe recently.
Mr Hambwezya advised Zambians against buying mealie-meal in bulk as the country had enough maize stocks.
He said he was happy to note that Lundazi Main Depot and Chasefu had 32,000 tonnes in total.
Mr Hambwezya said there was enough maize in Eastern, Southern and North-Western provinces.
He said it was only the Copperbelt Province which had not done well in the last farming season.
Mr Hambwezya said falsehoods on social media were causing panic among
people, thereby creating panic-buying and causing an artificial shortage of mealie-meal in some places.
He said people should be aware that the agency would start buying maize soon which would add to the current stock.
He said the FRA would soon announce the floor price of maize for the 2023 crop marketing season.
Mr Hambwezya said the price to be announced would be good for the farmers in the crop marketing season.
Lundazi district administrative officer Mukule Banda told Mr Hambwezya when he paid a courted call on him that the district was a farming area and was currently contributing to the national food basket.
Mr Banda said the community sales the FRA was implementing was going on well in the district.
Later, Katundu Milling Plant proprietor Martine Mtonga said the company was producing about 1, 200 bags of 25-kilogramme mealie meal every day.
Dr Mtonga said FRA supplied maize to his company which was milled and later sold to retailers at K165 for a 25-kilogramme bag.
He commended the government, through FRA, for supporting his milling plant with maize.
Dr Mtonga said his eight-month-old milling plant was supplying mealie-meal even to Chasefu and Lumezi.
He was quick to indicate that the biggest challenge his milling plant was facing was intermittent power supply which the district depending on from Malawi.
In Lumezi, District Commissioner Jimmy Phiri said Lumezi alone had 10,000 metrics tones which he described as enough to feed other needy areas across the country.
Mr Phiri said people should not worry as there was enough maize in the storage sheds in the district.
"May I take this opportunity to tell the nation that Lumezi District is much safe as far as food is concerned. At the moment, we have 10,000 metric tonnes in storage sheds in Chikomeni, Mwasemphangwe and Lumezi," he said.
At Mgubudu FRA depot in Chipangali, Agriculture Minister Reuben Mtolo urged security wings to tighten security along the borders to stop unregulated export of maize and mealie-meal.
"The time I have been in Chipata,I have observed that some people are using all sorts of means and vessels to smuggle out mealie-meal and maize out of the country. The Zambia Police should arrest all those smuggling mealie-meal and maize," he said.
He also warned millers against colluding with smugglers of maize and mealie-meal as they risked being blacklisted from accessing maize from the FRA.
Mr Mtolo said he was aware that 96 per cent of maize in the FRA storage facilities was produced by small-scale farmers hence the need to protect it.
The minister also warned farmers against selling of their produce to the briefcase buyers and foreign nationals.
He urged the farmers to sell maize to FRA and leave some for consumption.
He also reiterated that the maize to be imported from South African would be taken to border areas, with the aim of cushioning against mealie-meal shortage of mealie-meal in those areas.
Mr Hambwezya said over 70,000 metric tonnes of maize was expected to be offloaded to millers in a few weeks to last up to June.
He said the FRA was also buying 40,000 metric tonnes of early maturity maize from farmers.
Meanwhile Rainbow Milling director Ayyub Patel appealed to the Government to put up stringent measures to ensure there was no smuggling of maize and mealie-meal.
The minister who also conducted spot-checks of maize at Katete, Sinda and Petauke FRA depots.
Mr Mtolo said millers had the capacity to provide the mealie-meal to the country if milling was well managed.
He also asked consumers to buy mealie-meal from recognised outlets.
And Mr Hambwezya said the agency would not provide maize to millers conniving with smugglers.
Kwacha Milling director Salim Mitha said there was no shortage of mealie-meal because his plant was able to meet the demands on the market.
He said currently, Kwacha Milling was selling breakfast at K178.00 and a bag of roller meal K125.00
In Petauke, Mr Mtolo assured farmers that the FRA would expeditiously pay farmers for the maize which would be supplied to the agency during the crop marketing season.
Mr Mtolo said it was encouraging that Petauke district was one of the major contributors to the national food strategic reserves.
Mr Hambwezya said it was gratifying that Petauke was a key district in agricultural production and played a key role in the production of maize in the country with 24,000 metric tonnes.
Petauke District Commissioner Martha Mulenga said two trucks laden with 750 bags of 25-kilogramme mealie-meal were recently intercepted in Petauke district.
The visits to check on the maize and mealie-meal situation at FRA depots and milling plants in the Eastern Province has already allayed fears that Zambia was food insecure.