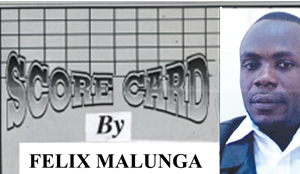 FESTIVE greetings to all the sports enthusiasts across the country.
I was shocked to learn that almost 50 years since Zambia became independent, we still do not have qualified coaches to drill the senior national football team.
Despite local coaches having taken charge of the squad in the past, we are now told these trainers are not adequately equipped to manage the team.
Inadequate as they maybe, some of these local coaches though have managed to win regional competitions like COSAFA and CECAFA including qualifying the team to the Africa Cup of Nations (AFCON).
We are further told that local coaches needed to attain the CAF 'A' Coaching Licence-the highest qualification in Africa-for them to be eligible to compete for the Chipolopolo job.
Football Association of Zambia (FAZ) president, Kalusha Bwalya revealed during the past week that local coaches were not qualified enough to be given the Chipolopolo job.
Kalusha, himself a holder of a UEFA 'A' Coaching Licence and former Chipolopolo trainer, said it was difficult to find a suitable local coach with the necessary qualifications to handle the team
He advised Zambian trainers to upgrade their coaching qualifications for them to get consideration for the top job in future.
The Zambia Football Coaches Association (ZAFCA), whom I believe in liaison with FAZ, should take a leading role in ensuring their members were adequately qualified, concurred with Kalusha's observation.
It seemed ZAFCA were waiting for a reminder from FAZ for them to realise that their members did not have the requisite qualifications for the national coaching job.
Time is now for ZAFCA to become more proactive and lead the way in collaboration with the FAZ technical department in organising the necessary courses aimed at equipping local coaches.
Currently, most of the nation's top coaches are attending a CAF 'A' Licence course which is being coordinated by the FAZ technical department.
We can only hope, that after our local coaches attain the highest CAF qualification, Zambians will begin like in South Africa, Nigeria and Ghana be allowed to take charge of the senior team.
May 2014 bring more good tidings to Zambian sport and football in particular.
For comments: malungaf@gmail.com