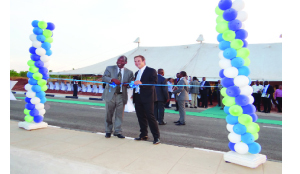 By KENNEDY MUPESENI –
MULTI-FACILITY Economic Zones (MFEZ), Industrial Parks and as well as industrial clusters are poised to ease the challenge of unemployment the country has been facing in the last 20 years.
Through these developmental and economical vehicles, Government has projected to create more than 110,000 jobs once fully operational which is significant looking at the number of beneficiaries.
This is why Government has provided incentives in the 2014 Budget for license holders in MFEZ, Industrial Parks and business enterprises in rural areas to facilitate development.
Alexander Chikwanda proposed to continue granting tax incentives accessed through the Zambia Development Agency (ZDA) for license holders in MFEZs, Industrial Parks and business enterprises in rural areas of the country.
This is to facilitate job creation as well as industrialise the country. Government has said it will continue implementing programmes and activities aimed at attracting and promoting investment into the country.
This will be done by accelerating the development of Multi-Facility Economic Zones and Industrial Parks which are expected to create over 110,000 jobs once fully operational," Mr Chikwanda said.
One of the MFEZs that is poised for more job creation is the Roma Park located North-East of Lusaka.
Roma Park is a 104-ha (257-acre) multi-million-dollar mixed-use residential and commercial development offering a new blueprint for economic, social and infrastructure growth in the suburbs of Lusaka.
The Park will encompass mixed-income residential and commercial properties, including retail, warehousing, industrial, office and educational space.
Situated close to road and rail links, and the Lusaka business district and international airport, Roma Park creates a residential and corporate address of international standards, offering long-term investment value.
Roma Park is a venture between CDP Properties and Renaissance Partners.
The project started in 2009, has seen over K120 million invested and the creation of more than 300 jobs so far.
Minister of Commerce, Trade and Industry Emmanuel Chenda said the Government had embarked on development of MFEZs and Industrial Parks which were domestic and export-oriented industries meant to catalyse industrial and economic development as well as create jobs.
"Roma Park has since its commencement seen more than K120 million invested into the project with over 300 jobs created which is encouraging," he said.
The project, when complete, will have serviced a total of 280 acres of land and attracted over US$150 million of investment and generate 2000 jobs.
Mr Chenda said with its MFEZ status, the development would offer attractive investment geared towards export oriented businesses.
"We strongly believe that Roma Park will provide a strong mix of local and foreign investors, as the Park's incentives provide businesses with a competitive edge and reduces the cost of production and manufacturing," Mr Chenda said.
CPD Properties Director Shaun Davy said the development of the Commercial Park would provide investment opportunities in light industry, distribution centres, warehousing and value added production.
"Roma Park will provide purpose-built and well services manufacturing units, in an area that is expected to become a national and regional manufacturing hub. The retail concept most likely to be attracted to Roma Commercial Park is destination value, which includes wholesale and factory outlets," said Davy.
Mr Davy added that Roma Park would further provide well serviced (water, electricity, sanitation and road services) plots ranging from 1 acre to 5 acres, for commercial and light industrial units, in an area expected to become a national and regional manufacturing hub.
Furthermore, the area is expected to attract ancillary investment such as value retail, wholesale and factory outlets as well as warehousing.
This maximises the site's location, providing a large area for development within proximity to the existing high cost catchment and operators providing local storage facilities to businesses and the local residential catchment.
There is need to encourage more of these industrial parks across the country if the dream of reducing unemployment can be achieved.
The concept is good because it is offering multipurpose benefits to the country.
The country has lagged behind in terms of development hence the need to market these zones to realise their full potential.
The park will offer employment opportunities especially to Ng'ombe, Kabanana, Roma residents and the surrounding areas because of its proximity to these areas.
The Park is also expected to reduce motor and human traffic from the central business district and make doing business in town more convenient.