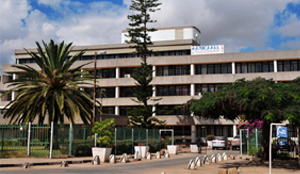 By NAKUBIANA SHABONGO –
THE Lusaka City Council (LCC) has approved its K319 million annual Budget for 2015.
LCC chairperson of the Finance and General Purposes Committee, Crispin Kabole said the council allocated K122 million towards personal emoluments, K115million for service provision and K11 million for ward development expenses.
The council set aside nine million Constitutional Development Funds (CDF) while K24 million was for other capital projects, K951,148 was allocated to councillors' allowances and 34 million for other
purposes.
Mr Kabole said that K225 million of the Budget was expected to be raised internally and K87 million was from Government support.
The LCC annual Budget was unveiled during a full council meeting in Lusaka yesterday chaired by Lusaka deputy mayor Potipher Tembo.
"Your worship despite these achievements, council faced a number of challenges in the execution of its duties. Some of the challenges include increasing debt burden of retirees, court cases, salary increments and outstanding wage bill among others," he said.
Mr Kabole said despite the achievements the council was faced with a number of challenges in trying to attain it.
The Lusaka deputy mayor said the council had a lot of potential with regard to generation of revenue and urged the local authority not to depend on grants.
Mr Tembo said councils needed to step up in generating income as the performance was low.
Contributing to the LCC Budget debate Kanyama Member of Parliament, Gerry Chanda expressed concern over static budget and poor performance of the council to increase revenue generation.
"Why should we use the same budget that failed to increase the revenue, I wonder what rationale was used to come up with the Budget," he said.
In response, LCC town clerk Alex Mwansa said the council was under a prescribed Budget directed by Local Government and Housing Minister Emmanuel Chenda.