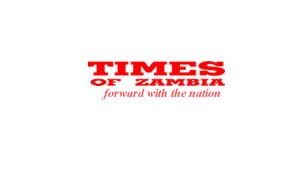 By REBECCA MUSHOTA and MAYA NTANDA –
INFORMATION and Broadcasting Services Deputy Minister Poniso Njeulu says he is encouraged by the improved news content and circulation of the Times of Zambia.
Mr Njeulu said when he toured Times Printpak Ndola offices yesterday that he had observed that recently, a lot more people were buying the Times of Zambia newspaper and that it now had a wider circulation than before.
Mr Njeulu said this was so because the Government had provided an enabling environment for the Zambian media to operate.
"And because your readership is growing, I hope you expand by even opening an office in Mongu considering that the Western Province has 16 districts, which is a good market for you," he said.
Production manager Emmanuel Mbosa said the company was employing innovative ways to increase production and increase sales but there was still need to replace some old machinery.
Branch advertising manager Lorraine Kapula urged Mr Njeulu to help promote the advertising packages the company had come up with for Government departments.
Senior sales and marketing officer Timothy Kaputo said the company had come up with an email version of the Times to reach clients that were so far out of reach of the company's circulation radius.
Earlier, Mr Njeulu addressed media heads at ZNBC Kitwe studios where he said public access to information was a fundamental requirement to the creation of a transparent, accountable and democratic governance system.
Mr Njeulu said the Government had embarked on a wide range of measures to reform and reposition the media in the country so that it played its full and rightful role in national development.
Mr Njeulu said the Government was committed to ensuring that a transparent and people-driven Access to Information (ATI) Bill was put in place.
He said the Government constituted a taskforce which comprised civil society representatives, faith-based organisations, academia, the legal fraternity, human rights activists and other key stakeholders that came up with the draft ATI Bill.
Mr Njeulu said the multisectoral complexion and composition of the taskforce to draft the Bill was testimony of the Government's commitment to a transparent and people-driven process in coming up with the law.