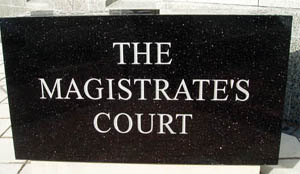 By KASONDE KASONDE –
A KABWE Police officer has been acquitted of a rape following the complainant's failure to attend court sessions during trial.
Kabwe magistrate Sebastian Mwenya said he was throwing out the case and acquitting Joseph Lungu because the woman who was allegedly assaulted, had failed to turn up in court.
This is in a case where Lungu was charged with raping a woman who was in Police custody.
Lungu on February 12, this year allegedly raped the woman who was at the time in custody at Kasanda Police Station.
During trial, the State brought in two witnesses, one of them Jonathan Mumba another Police officer, who was on duty with the accused when the rape allegedly occurred.
Mumba told court that there were three people in custody when he reported for night duties, two males and one woman in the juvenile cell.
He told the court that while on duty, he left the reception and went on patrol for about 30 minutes leaving Lungu in charge of the people in custody.
Mumba said he and Lungu manned the station untill 08:00 hours when their shift ended and they left for their respective homes.
However, the case could not continue because the woman in question failed to show up at court during court proceedings.
The investigating officer Mui Mui told the court that he had challenges in bringing the complainant to court as she was nowhere to be found.