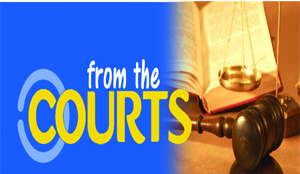 By PASSY HAACHIZO –
A VIOLENT Lusaka evangelist has escaped divorce after he pleaded with his wife in the Kanyama local court not to leave the matrimonial home.
The court also heard how prayer caused the evangelist's wife to confess having sex with her father in her dreams.
Cosmas Sitenge, 41, an evangelist from New Apostolic Church in Kanyama Township knelt before his wife, Miriam Mutumba, 33, of the same church and area pleading with her to reconcile with him instead of divorcing him.
Sitenge told his wife shortly before submission time that he regretted having been violent to Mutumba and promised to never mistreat her again.
"From deep down my heart, I am really troubled and sorry for whatever I have done to you and I promise I will never beat you again. Please mama, let us stop drinking beer and start a new life," Sitenge said causing laughter in court.
This is a case in which Mutumba sued Sitenge for divorce for being violent and accusing her of having sex with her father in a dream.
The two got married on June 15, 2001 and have three children together.
Sitenge paid lobola but only enjoyed marriage for a short time.
Mutumba told the court that her husband was so rude that there was a time when Sitenge fractured his wife's left arm when the two picked up a quarrel.
Mutumba said Sitenge once knocked off her tooth during a dispute, which was later replaced by an artificial one.
"He even broke my rib. There was a time when he struck my eyes, making them get swollen.
"The worst of all is that he even told me that a witchdoctor told him that I was having sex with my father whenever I went to sleep. He also told me that even if I had a child it would die," Mutumba said.
In defence, Sitenge told the court that he really loved his wife but the problem was that she was a drunkard.
Sitenge also said his wife used to moan and groan as if she was having sex and yet she was asleep and he surprisingly used to find semen on her private parts.
"One day when it occurred I prayed and she started shouting her father's name that he was the one who was having sex with her and after the demon left she slept as if she was dead," Sitenge said.
Senior local court magistrate Serah Nyendwa, sitting with Ackim Phiri and Daniel Phiri, adjourned the matter to a later date.
"Since your wife said she can give you another chance, as an evangelist, you go and reflect but ensure that you stop going to witchdoctors, you are a pastor," Ms Nyendwa said.
Ms Nyendwa ordered Mutumba to submit herself to her husband and desist from playing around with unmarried women if she wanted her marriage to remain intact.
Wife grabs hubby's phone after bathroom call

By PASSY HAACHIZO –
A LOCAL court in Lusaka was shocked upon hearing how a man was caught by his wife phoning a girlfriend from the bathroom.
This was a case in which Catherine Lungu, 35, of Zanimuone Township sued her husband Azele Phiri, 37, a mechanic for divorce.
The two got married in 2008 and they have two children. Although dowry was paid but for the past seven months they have never had sex.
Lungu said the two stayed in harmony only for a short while as Phiri then started flirting around with other girls.
She told the court that her husband was fond of putting his phones away from her and only answered calls from the bathroom.
Lungu said Phiri had even changed his timetable of coming home as he had now started arriving home after 01:00 hours.
"One day he was beeping from the bathroom and when I asked him (Phiri) the one he was beeping and talking to from the bathroom he did not tell me.
"I tried to get his phone and in the process his clothes fell as he squeezed my hand while hiding it behind the door," Lungu said.
Lungu said she then shouted for help from neighbours and that after grabbing the phone she ran to a neighbour where she discovered her husband was calling a girl by the name of Chile.
She said despite having settled the issue Phiri continued coming home late and spending nights out without caring that she was pregnant.
In defence, Phiri admitted that he was a drunkard but said there was no problem since he was not the one who brewed the beer.
He, however, dismissed allegations that he was coming home at 01:00 hours but 19:00 hours.
In passing judgment, Matero local court senior magistrate Pauline Newa, sitting with magistrate Lewis Mumba, annulled the marriage without any compensation.
"Even if you married from church since you had no sex for seven months it is obvious that there is no love between the two of you," Ms Newa said.
Ms Newa, however, ordered Phiri to be maintaining his children with K300, and that the two should share the property acquired together.
Violent lover sued for child support
By PASSY HAACHIZO –
A LUSAKA woman has told the Kanyama local court that her husband is violent and beats her until she faints.
Patricia Phiri, 25, said she wanted the court to tell her husband Justine Zimba to start maintaining his children as she personally could not do so for fear that he might kill her one day.
This was a case in which Phiri sued Zimba for child maintenance after the latter resorted to spending nights away from home and without providing support to the three children.
Phiri said it was sad that whenever she told her husband about the need for the two to sit down and maintain the family, Zimba ended up badly beating his wife.
"The other time he beat me I fainted and only woke up from a hospital bed but when I asked what had happened Zimba told me his friends wanted to beat me that is how I fainted," Phiri said.
In defence, Zimba said his wife was not straight in her dealings and sold everything he had in the house.
"I do not have anything in the house anymore as she sold everything we had. However, in an instance where we are divorced I think I can be giving her K300 every week for the children," Zimba said.
In passing judgment, senior magistrate Ackim Phiri, sitting with Serah Nyendwa and Daniel Phiri said there was no marriage between the two.
"It is you who brought these children on earth so you have to be very serious because tomorrow you will bear another child with another person and dump that child.
"Since we do not count that you are in marriage, you are going to be maintaining these children with K600, with K200 for each child," magistrate Phiri said.
Girl narrates how she was enticed with 50 Ngwee
By SYLVIA MWEETWA –
A NINE-YEAR-OLD girl has narrated in court how she was enticed by a 41-year-old man to be given a 50 ngwee coin before taking turns in defiling her.
The girl told Kabwe principal resident magistrate John Mbuzi how the accused person called her as she was playing with her friends outside and asked her to go in the house to collect a coin.
This is a case in which Peter Kamfwa is appearing in court for allegedly defiling a minor on August 16, 2015, a charge he denied.
The child said that she was surprised that the accused pinned her to the ground and defiled her and she felt pain and started to cry.
Arresting officer Charles Mubita said he arrested Kamfwa following a docket which was issued and that a medical confirmed that the girl was defiled.
He told the court that he interviewed witnesses, including the victim who revealed she was defiled in the house of the accused and that after the act he ran away.
Another witness Collins Phiri told the court that he was coming from work when he found a girl crying by the road side and when he inquired from her, the girl said that she had been defiled by the accused who was a neighbour.
He said that as he was speaking to the girl to establish what happened, Kamfwa came out of the house and fled.
Earlier, the accused caused laughter in court when he decided to defend himself instead of cross-examining the witness.
Kamfwa was found with a case to answer and put on his defence.
My insults were directed at my girl, man tells court
By SYLVIA MWEETWA
A TWENTY-EIGHT-YEAR-OLD Kabwe man who is appearing in court for bad language during his visit to Nkrumah University has said that his insults were not directed at the lecturers or institution but  at his girlfriend who was ignoring his phone calls.
This is a case in which Angel Muyangana is appearing in court for criminal trespass. He is alleged to have entered the learning institution on September 22, 2015 with intent to annoy, a charge he  pleaded not guilty to.
During trial the State called four witnesses, among them Nkrumah University Dean of Students Edmond Muleya, who testified that he was in his office when he heard someone insulting and later went out  and invited the man into his office and asked him why he was using such language.
Muleya told Kabwe principal resident magistrate John Mbuzi that Muyangana explained that he was at the university to pay for her niece's fees but later changed the statement before bursting into  issuing unprintable words.
He narrated that he explained to Muyangana that fees were not paid at the university but through the  bank but later stormed out of the office while insulting, which incensed the students who started chasing after him, while shouting 'thief', 'thief', and that he attempted to jump the wall fence but failed.
He was later apprehended by the students and was handed over to security and that he was almost beaten up by students who felt offended by his insults.
A senior lecturer at the university Obert Chiliboyi said he was disturbed with the unusual noise and felt ashamed that such language was used considering that one of the values of the university was to educate students on the importance of good morals.
Smart Siame, a security guard, said the behaviour of Muyangana was shocking and that he assisted in apprehending and later surrendering him to Chowa Police Station where a docket was issued, while arresting officer Webster Chisama said he arrested and charged the accused after investigations.
At the closure of the case, Mr Mbuzi found Muyangana with a case to answer and put him on his defence but he opted to give unsworn evidence and said his insults were directed at his girlfriend who was not picking up his phone calls.
Man caught recording court session
By PASSY HAACHIZO –
THE Kanyama local court has opened a charge sheet for a 30-year-old Lusaka man who was caught recording and taking pictures of the magistrate, while the court was in session.
This is the same man whose wife complained about being denied sex by putting a blanket in between them at night.
Local court senior magistrate Daniel Phiri, sitting with Ackim Phiri and Serah Nyendwa ordered the court clerk to open a charge sheet for Martin Maya, 30, who was in the dock for defence over a divorce case.
Maya started recording court proceedings when he appeared before the magistrates after his wife Ruth Kalasa, 28, of Kanyama Township sued him over his violent and abusive behaviour.
It was while Kalasa was testifying that Maya brandished his mobile phone and started recording, prompting magistrate Phiri to order that a charge sheet be opened coupled with confiscating the mobile phone.
"Open a charge sheet for him fast. How can he be recording and taking pictures of us in court? Not even an MP can do that in a court of law," magistrate Phiri said.
Magistrate Phiri discontinued the case in which Kalasa dragged Maya to court until the new case of recording in court was dealt with.
In the initial case, facts before the court were that Kalasa and Maya got married in 2008 and had two children together. Maya paid K600 lobola.
Kalasa told the court that problems in their marriage started nine months after the couple tied the knot when Maya impregnated another woman.
Kalasa said Maya was so abusive and violent that he started beating and insulting her without any regret.
"He mentions my buttocks, my sensitive parts. He even married another woman who has also been insulting me," Kalasa said.
Kalasa said in 2013 her husband infected her with syphilis and that he started receiving treatment from a clinic without her knowledge.
Kalasa also told the court that Maya had deliberately stopped having sex with her so that she could leave him in frustration and thus giving him an opportunity to go after another woman.
"He has been putting a blanket in between whenever we go to sleep so that we should not have sex," She said.
Kalasa also said that she had taken her husband to the Victim Support Unit but Maya did not seem to change.