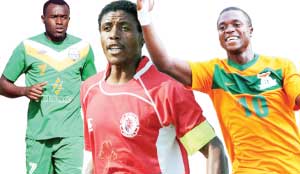 By FELIX MALUNGA –
AFTER a two-month recess, the 2014 Zambian football season kicks off today with the traditional, Samuel 'Zoom' Ndhlovu Charity Shield pitting the nation's top four clubs in the semi-finals.
MTN Premier Division League champions, Nkana will face-off with their nemesis, Nchanga Rangers while Barclays Cup holders, Red Arrows will clash with Zesco United during this double header feast at Arthur Davies Stadium in Kitwe.
The winners of these juicy matches will battle in the February 22 final with the proceeds from the Charity Shield given to Republican President Michael Sata, who is Football Association of Zambia (FAZ) patron), to donate to a charity of his choice.
Rangers v Nkana (15:00 hours)
Nkana, the record 12-time league kings, will today hope to send an early message to other contenders to the crown when they engage Nchanga Rangers in the season-opener.
With the tough 2014 CAF Champions League assignment on the horizon, Nkana need an outright win to boost their morale before embarking on a trip to Swaziland next week.
Buoyed by their recent 3-2 triumph over four-time African champions, TP Mazembe of DR Congo, Nkana want to make Rangers their first local victims this season.
Nkana, who dominated Rangers last year by beating them twice, will hope to maintain their edge over the Chingola side.
However, Nkana coach, Masautso Mwale said the Kitwe giants would take the match cautiously.
"We will go into the game respecting them and we are all from the off season so those results are in the past," Mwale told Supersport.com.
But Rangers coach, Fighton Simukonda, a Nkana legend himself, described the match-up as tough one but hopes his charges could rise above the champions this afternoon.
Simukonda said Rangers were not intimidated by Nkana and believes good preparations could do the magic for the Chingola team.
Rangers will have to face Nkana without their two key strikers, Alex Ng'onga and Felix Nyaende, who have trekked back to Power Dynamos following the expiry of their loan deal.
Simukonda can still bank on Rangers' top scorer last term, Bornwell Mwape for this afternoon's assisgnment.
As for Nkana, they will only miss striker Festus Mbewe, who moved to South Africa during the recess but still have MTN golden boot winner, Ronald 'Sate Sate' Kampamba among several others to do the job.
Zesco v Arrows (13:00 hours)
Following an unimpressive build-up to their 2014 campaign, Zesco United will today want to prove a point that their poor results in off-season have no effect in competitive situations when they clash with Red Arrows.
In this lunchtime kick-off, Zesco coach, Tenant Chembo believes Zambia's CAF Confederation Cup envoys would be able to stand tall and disorient Arrows, who parted ways with their Barclays Cup-winning coach, George Lwandamina a week ago.
With playmaker Bruce Musakanya joining league champions, Nkana and tactician Lwandamina out, Arrows under caretakers, Songwe Chalwe and Charles Kafula have a mammoth task of firstly winning respect from the players and then moulding a winning team for 2014.
First choice goalkeeper, Danny Munyau is also missing this fixture as he is yet to fully recover from an injury incurred last year.
Despite those setbacks, Arrows, who showcased some of the refined football on the local scene last year, still have the likes of defender, Bronson Chama, a strong favourite for the MTN Footballer of the Year award and Stanley Nshimbi among others to do damage to Zesco.
On their part, Zesco will be without winger, Chileshe Kangwa, who sustained an injury last week during the team's pre-season tour of DR Congo.
Striker Alfred Luputa is another player missing the season-opener.
Chembo can still look up to new acquisition Justin Zulu, Jackson Mwanza, Kondwani Mtonga and skipper Jacob Banda for inspiration this afternoon.
Zesco desperately need to win this fixture as they continue with their build-up for the Confederation Cup skirmishes after being handed a preliminary round bye.