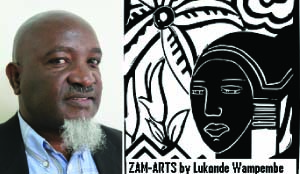 WHEN Okot p'Btek, the Ugandan Acholi poet, singer, lawyer and scholar wrote 'Song of Lawino' a little more than 40 decades ago no one ever imagined that the song would still be sung today and enjoy just as much widespread readership as it did then.
Okot, an accomplished sportsman who once played football for the Uganda Cranes, the country's national team, still pulls sizeable crowds on the streets of our Zambian towns.
I have seen copies of Lawino sold on our streets in Lusaka and Ndola with a completely new cover design and reader's introductory notes.
Okot was greatly concerned with the African traditional way of life; which is why his first novel, 'Lak Tar' was written in Luo, a local tongue of the Ugandan people.
'Song of Lawino' itself was also written in the same language and first appeared as 'Wer pa Lawino' based on well-researched traditional modes of the Luo people.
The English version of the book hit East Africa like an African tropical storm, which it actually was, and was read on the streets, schools, taverns and universities.
University students, among them Zambians on this side of the Equator and elsewhere, were also caught up in the raging literary hailstorm.
The appeal was magical, debates on the book unavoidable and literary comparisons among university academicians adequately attempted but failed lamentably most of the time.
For 'Song of Lawino' stood tall and correct like a middle finger as an absolutely African narrative deeply embedded in the African traditions and psyche.
Other writers imitated the new song orientation as did Okello Oculi and his 'Orphan' followed by Joseph Buruga and the 'Abandoned Hut.'
Okot himself later published 'Song of Ocol,' 'Song of Malaya' as well as 'Song of Prisoner.' There are varied reasons for such tremendous excitement mainly due to the song's lucid style, folkloristic form and commonplace themes.
The creation of such a robust, sympathy-seeking and lamenting woman is appeal enough, accompanied by the simplicity of language, and a  somewhat reasoned attack on a husband we never get to hear speak in self -defense. Here is Lawino's first diatribe on Ocol (p 12):
Husband, now you despise me
Now you treat me with spite
And say I have inherited the
Stupidity of my aunt;
Son of a Chief,
Now you compare me
With the rubbish in the rubbish pit
You say you no longer want me
Because I am like the things left behind
In the deserted homestead.
You insult me
You laugh at me
You say I do not know the letter A
Because I have never been to school
And I have not been baptised.
It is the quick succession of word after word, phrase after phrase, image after image that makes one pay attention to what the hysterical Lawino is about to say.
The language is ordinary for any village woman, man, boy or girl. The case in point, a conflict between husband and wife, is a mirrored reality of any given community.
Armed as Lawino is – that  is, if we take the appeal to be hers or as one coming from Okot using her only as a mouthpiece – the judge and jury had better sit up to hear the plaintiff's case.
Chiefs are great opinion leaders in African communities and for Lawino's husband to have come from such a family and behave the way Lawino thinks he does is an outrage, a total disgrace worth broadcasting to the whole community; it is no longer within the confines of a spouse's bed room.
It is taboo for Lawino's husband to get to insult his wife's aunt for no reason other than that she is related to Lawino.
It should be clear from what we have discussed that Lawino's appeal can easily be an attraction: for who would not listen to a hapless woman in such a precarious situation?
The need for sympathy is amplified when there is a repeat in her complaints about Ocol's uncalled for behavior (p 13):
My clansmen, I cry
Listen to my voice:
The insults of my man
Are painful beyond bearing.
My husband abuses me together
With my parents;
He says terrible things about my
Mother
I am so ashamed!
He abuses me in English
And he is so arrogant
He says I am rubbish,
He no longer wants me!
In cruel jokes, he laughs at me,
He says I am primitive
Because I cannot play the guitar,
He says my eyes are dead
And I cannot read,
He says my ears are blocked
And cannot hear a single foreign word
That I cannot count the coins.
There you are dear reader; the need for attention from Lawino is now more specific, she appeals to the sensibility of her community, her entire clan and perhaps the whole black race.
It is no longer a personal concern it has become the cry of a collective consciousness of a people bound by common cultural norms and values where in-laws should be respected and people in the lower rungs of a social spectrum accepted and respected.
We will return to this later but there is a question of just how with her level of education, if she has any, Lawino can understand her husband's insults in English apart from the use of known words like stupid and rubbish. How did she get to know this?
This would be an interesting question to answer in our subsequent discussions which might help us understand the poet's challenges in creating a purely rural woman who is grappling with bigger themes espoused by a degree-wielding husband (who as we have noted earlier is so far loudly silent).
There are also issues of economics for a woman whose eyes are dead and ears dead blocked. However, despite all this Lawino's charm has already got everyone entangled in the husband-wife conflict.
The widening scope of the quarrel is already way out of her homestead to the whole black world (p 14):
He says Black People are primitive
And there ways are utterly harmful,
Their dances are mortal sins
They are ignorant, poor and diseased…
Ocol says he is a modern man,
A progressive and civilized man,
He says he has read extensively
And widely
And he can no longer live with
a thing like me
Who cannot extinguish between
Good and bad.
He says I am a village woman,
I am of the old type,
And no longer attractive.
He says I am blocking his progress.
My head, he says,
Is as big as that of an elephant
But it is only bones,
There is no brain in it,
He says I am only wasting his time.
At long last, we know who this abusive man is. He is not only the son of a renowned chief but his name is Ocol.
Still silent, but his pranks are despicable for a woman like Lawino, who is uncivilised, ignorant, a village woman at that with a big-for-nothing elephant head, all bones and no brains!
But even if she has no brains she has a flair for big words such extensive, distinguish, modern and primitive. Her audience encompasses the whole black world that should stand witness to her husband's insults.
She herself is a representative of a despised race under intense scorn by a civilised husband. Take note of the image of an elephant with a big head typical of a literary device called hyperbole applied in oral narratives.
Okot is a genius at this kind of thing. It would appear though that the stage is set for a show- down between a civilised husband and a mere village woman.
But until we hear who else is part of this household friction, we may not appreciate just how nasty the scuffle has turned out to be (p 14):
Ocol rejects the old type,
He is in love with a modern
woman,
He is in love with a beautiful girl
Who speaks English
But only recently
We would sit close together,
Touching each other!
Only recently I would play
On my bow- harp
Singing praises to my beloved.
Only recently he promised
That he trusted me completely.
I used to admire him speaking
In English
There is now for Lawino only a quiver of a nostalgic note in her voice. Time might as well have dispensed with a village bow-harp and replaced it with a modern guitar which she cannot play.
The English language has overshadowed the local tongue and all the praise songs subdued by external forces too strong for the village woman.
Trust has evaporated and an admirable posture for English shriveled to naught. There is some hint for Lawino's unsettling sorrows: it appears to be an abrupt and strange arrival of a woman in town only referred to as a 'beautiful girl,' modern with an admirable skill and knowledge of spoken English.
Who could this girl be that Ocol has been philandering with? We can only guess but for now dear readers walk to the streets and get a copy of Okot's charming book at an affordable price.
Comments: ofpoetspoems@gmail.com