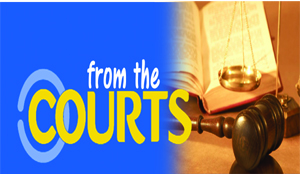 By PERPETUAL SICHIKWENKWE –
A LUSAKA lawyer has appeared in court and pleaded not guilty to swindling unsuspecting job seekers out of K80, 000 on pretext that he will find jobs for them in security wings.
Joseph Banda, 26, of Mubanga and Associates is charged with 10 counts of obtaining money by false pretences.
Banda, of house number 3305 New Kasama Road in Chalala Township, is alleged to have swindled the 10 Lusaka youths with a fake promise of finding them jobs.
It is alleged in the first count that Banda, between July 1 and July 31, 2015 in Lusaka, with intent to defraud, obtained K9,305 from Bartholomew Daka by pretending that he was going to secure him employment as a police officer.
Banda, in the second count, allegedly 'milked' Apton Zulu out of his K9, 305 with a lie of securing a job for him.
In the third count, Banda allegedly 'squeezed' K8,560 out of Peter Mulenga while Lackson Sakala was allegedly duped out of K5,450.
He is further, in count five, alleged to have defrauded Janet Katota of K8,750, while Alfred Phiri was, in count six allegedly swindled out of K10,105. Musenge Silungwe was allegedly cheated out of K8,895.
Kelvin Silavwe of Lusaka was in the eighth count allegedly exploited out of K8,017,  while Steward Bandala allegedly lost K6,455.
In the 10th count, Moses Tembo was allegedly defrauded K8,540 by Banda.
Banda, however, told Magistrate Alice Walusiku after the offences were read out to him that he was not guilty.
He later applied for bail contending that he was an advocate of the High Court and of fixed abode, and as such, he could not jump bail.
Ms Walusiku granted Banda K50, 000 bail in his own recognisance and ordered him to provide two sureties in the like sum.
She further ordered that one of the two sureties should be working in Government.
Philandering cop loses marriage
By PHELILE MWANDILA –
A POLICE officer in Ndola who started living with another woman without the consent of his wife has lost his marriage.
This is a matter in which 33-year-old Janet Nambela of Kabushi Township dragged her husband, Nyambe Kanyanta, 51, a police officer at Masala Police Station, to Kabushi Local Court for inviting another woman to live with him.
Ms Nambela told magistrates Sara Bwalya and Mildred Namwizye that her husband brought another woman into their matrimonial home after he asked her to go back to her parents' home.
She said the two got married in 2011 and disputes started when Kanyanta started accusing her of committing adultery whenever she went for overnight prayers and to the market.
Ms Nambela said her husband had always been a good man until recently when he followed her to church around 22:00 hours and told her that he had been transferred to another station because of her.
"I even went to my husband's workplace to ask if he was getting transferred, but his superiors denied his claims," Ms Nambela said.
She said Kanyanta almost hit her with a car battery because she did not want to leave when he asked her to do so.
"I finally left our home and went to my parents' house in Chifubu Township, patiently waiting for my husband to come and get me and my daughter after he had calmed down, but he never showed up," she said.
Ms Nambela said after four months, she went to the matrimonial home to pick some clothes for their three-year-old daughter and she found Kanyanta with another woman on their matrimonial bed.
She said Kanyanta got upset with her and started beating her up.
Ms Nambela said later that day, Kanyanta packed all her clothes and told her to leave the house because he was fed up of her.
She told the court that Kanyanta was in a habit of marrying and divorcing women after a short period, adding she was his fourth wife.
Kanyanta, in his defence, said Ms Nambela was a bad mother who mistreated and constantly fought with the children he had with his former wives.
"She always insults the children she found in the house and is constantly found with my first-born daughter.
"It is for this reason that I no longer want to be with her. Moreover, she is just a woman I picked from a bar and married later," Kanyanta said.
Ms Bwalya ordered the couple to share property and instructed Kanyanta to give Ms Nambela K1,500 so that she could start a business since the house being built for her was incomplete.
'Starved' man drags wife to court
By THANDIWE MOYO –
A FORTY-EIGHT-YEAR–OLD man has dragged his wife to court for refusing to have sex with him.
This is because she cannot stand his smell of beer and opts to give him her back when they are sleeping.
This is a case where Christopher Sikalala of Kanyama Township sued his wife, Theresa Chileshe, 31, of the same location for divorce after the two failed to resolve their marital disputes.
Facts before the court were that the two married in 1998, had two children and dowry was paid.
Sikalala said when he married Chileshe, everything was fine but that last year she stopped him from enjoying his conjugal rights and started facing the other side when sleeping.
He said whenever he asked his wife to have sex with him, she said she usually forgot that she was sharing a bed with a man.
Sikalala said Chileshe treated him like a fellow man,  an indication that she had lost sexual feelings for him.
He explained that he could not live in a marriage without sex as that was the main reason he married her.
Sikalala stated that since his wife was refusing to have sex with him, it was better for them to part company.
" I am wondering why my wife stopped engaging in sex with me because I take care of my two stepchildren.
"I am starved and all I want now is divorce. Why should I be in a home without sex?" he said.
Sikalala said he suspected that his wife could have a lover secretly who satisfied her sexually and financially since her family would usually insult him on the basis of being poor.
In defence, Chileshe said she was not interested in having sexual intercourse with her husband because he was a womaniser and smelt beer.
"Since he wants to divorce me, I do not care about him, but I hope he supports his children since I have no means of feeding them," she said.
In passing judgment, Magistrate Sarah Nyendwa granted the couple divorce and ordered the couple to share all their property.
Sex-crazed hubby divorced
By THANDIWE MOYO –
A WOMAN of George Township in Lusaka has sued her husband for divorce on grounds that he is only after sex with her and does not care for the family.
This is in a case in which Agness Nambela, 38, sued Peter Banda, 44, of the same location for divorce stating that he had chased her from her matrimonial home and preferred to visit her in her own thatched house at night to demand for sex.
Nambela said her husband chased her from her house and told her that she was not beautiful.
She told the court that Banda had married another woman, but still visited her "in the name of seeing his child".
She said Banda demanded for sex which she gave him because she thought he was still in love with her.
Nambela said she was tired of sleeping with her husband since he had no intentions of getting her back to their matrimonial house, but only wanted to use her without buying food or clothes for her and their child.
She said her child missed her father's love and she thought he would go back to her, but that from his actions, he was not interested in the marriage but only sex.
"My husband seems to be happy with his girlfriend; let me be free to marry whoever I want," she said.
In defence, Banda said he was ready to divorce Nambela because she was promiscuous.
He said a few months after they separated, she was impregnated by another man.
"My wife had a boyfriend while we were married. She even has two children outside marriage, so how can I trust such a person?" he said.
He said each time he visited Nambela, she would seduce him and they would end up having sex even if he was not interested in the relationship.
In passing judgment, Magistrate Lewis Mumba, sitting with Pauline Newa, granted the couple divorce and ordered the duo to share all the property acquired together.
Matrimonial home turned into brothel
By THANDIWE MOYO –
THE Kanyama Local Court heard how a woman of John Laing Township in Lusaka turned her matrimonial home into a brothel to raise money for food each time her husband was away.
Kennedy Mukuka said he found his wife with another man in their matrimonial home around 05:00 hours and when he inquired, his neighbours told him that his wife was using his home as a brothel.
"I was shocked to be told that my wife was bringing different men in my home to have sex with her and pay her afterwards. On the material day I knocked off and found her with a man coming out of my bedroom," he said.
He said he had found a number of condoms in his wife's bag and wondered why she had condoms as he never used condoms with her whenever they had sex.
Mukuka said his wife had several lovers who, apart from having sex in their matrimonial home, booked lodges as he had found a lodge receipt in his bedroom signed by his wife, an indication that she was a "serious prostitute".
"The day I found my wife with her lover in our house my children slept at the neighbours' home. This implies that my house is a brothel, and I cannot reconcile with my wife because she has sex with several men who might have the HIV\AIDS disease," Mukuka said.
This was a case where Norah Mutale, 31, sued Mukuka, 35, of Makeni Township for reconciliation.
Mutale narrated that she only had one boyfriend who used to buy her food as her husband would not afford to buy anything for the family.
She said her husband also had a lot of girlfriends and that it was for that reason that she also resorted to having a lover to sexually satisfy her once her husband was out.
Mutale said she knew that what she did was wrong but she needed her husband to forgive and forget her promiscuity because they both had children to take care of.
She said she loved her husband but that temptations made her fall in love with another man.
The court, however, refused to grant the couple reconciliation and advised Mukuka to sue for divorce as their marriage had broken down irretrievably.