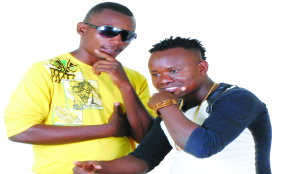 By SAM PHIRI –
THEIR entry effort into the Zambian musical industry is one that can be measured as exceptional and promising.
Meet the emerging  R'n'B musical  stars  Ever Smile and Cozy who have released four new singles and a video which can easily be judged as good.
They have already attracted the confidence and approval of  a multi-talented Nigerian musician J Snow who has featured in one of the tracks .
Ever Smile, whose real names are Davies Chilufya, and Cozy ( Cosmas Mbewe) might be very right to describe  their new tracks, which have a unique combination of R'n'B and a reggae touch, as "hot".
The childhood friends-turned-music partners have a history of performing together since  2004 and have since made 14 beats waiting for sponsorship.
The artistes say their must-listen-to 2016 new promos are Tondolo, a love tune, Iseni Munsende, which speaks against gender-based violence, and featuring Dalisoul is Wanjipaya, whose lyrics urge youths to avoid engaging in risky behaviour, especially having multiple and concurrent sexual partners.
"The fourth song is a cool remix of Tondolo, which features acclaimed Nigerian artiste J Snow (Godwin Jeremiah), who is renowned for his brand new song titled Love," says Cozy.
The pair has produced one video already voted a hit on Born an Bred and occupying the top three slot.
Fans should look out for more pieces of art from 'Ever Smiling-Cozy' because the duo is next month scheduled to release a video for the Wanjipaya track.
"Wanjipaya is yet to get a video next month…but we need cash to shoot the video, so we urge our fans to listen to our music and support us as we develop our talent," they say.