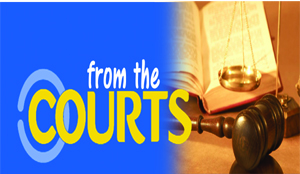 By THANDIWE MOYO –
A MAN of Lusaka's Chunga Township says he feels disgusted to have sex with his breastfeeding wife whose body had bulged.
Nsama Njovu, 35, said he could not stand having sex with a wife who was breastfeeding as he could not stand the smell of breast milk.
Njovu told the Matero local court that he had vowed never to have sex with his wife until their baby stopped sucking.
"I feel like throwing up when having sex with a woman while she is breastfeeding because of the smell of breast milk," he said.
He added that his wife was not looking pleasant in his eyes as she was always wearing dirty clothes.
"When I met this woman she was looking very beautiful and clean but these days she washes the baby but does not maintain herself," he said.
Njovu said his wife was free to have sex with other men who could stand a woman who was breastfeeding if she was not willing to wait.
The two got married in 2010 and have one child.
Kaunda Mwape, 23, sued her husband for marriage reconciliation complaining that he stopped having sex with her after she gave birth.
In her statement Mwape said she was tired of staying with her husband as if she was staying with her brother.
She also added that her husband had resorted to sleeping in the sitting room and refused to touch her.
"My husband does not allow me to be around when he is from bathing citing that he no longer wanted me to see his nakedness," she said.
Mwape said whenever she tried to engage her husband sexually he would refuse on grounds that he was tired.
Magistrate Lewis Mumba, sitting with Pauline Newa gave the man a two weeks ultimatum in which to have sex with his wife failure to which they would be granted divorce.
Kanyama woman recounts husband's abnormal sex demands
By THANDIWE MOYO –
THERE was drama at Kanyama Local Court when a woman narrated that she couldn't manage her husband's abnormal lovemaking which included anal sex.
The woman complained that her husband went as far as seven to ten rounds causing her to doze at work and even inflicted some injuries on her private parts.
Febby Nampungwe, 29, of Kanyama Township sued her husband Golden Hachisala, 33, of the same area for reconciliation.
Nampungwe told senior court magistrate Daniel Phiri sitting with magistrates Ackim Phiri at Kanyama Local Court that she could no longer stand the sex with her husband who got so excited in bed.
Nampungwe explained that her husband prolonged his sexual intercourse with her at night and also demanded for sex before going for work in the morning.
She said sometimes he would force her to do anal sex, which she described as unbearable as she could barely breathe when doing the act.
Nampungwe said she was still in love with her husband but all she needed was for him to make love normally.
She said previously all was well till her husband obtained some herbs he got from a witch doctor.
Nampungwe added that she at one time advised her husband to see a pastor but he refused arguing that his lovemaking was normal since he was young and sexually active.
In defence, Hachisala said his lovemaking was not abnormal and wondered why his wife usually complained.
He said he was surprised that Nampungwe could not manage to handle his sexual desires as that was a role of a tutored wife.
"I wonder why she is complaining of my lovemaking. Why did she leave her parents' house if she does not want to have sex with me since I feel that is why a wife is for," he said.
Hachisala said he suspected that Nampungwe had another man in her life because there were times when she refused to have sex on the pretext that she was tired.
He added that he could not reconcile with a woman who refused to meet  his sexual needs.
In passing judgment, magistrate Phiri ruled a failed reconciliation.
Woman divorces hubby after finding semen on his trousers
By THANDIWE MOYO –
A WOMAN of Zanimuone Township has dragged her husband to court on grounds that she found a smudge of semen on his trousers.
Susan Phiri, 36, sued Denis Mwansa, 46, of Chipata Township for divorce after being married for less than six months.
Phiri said she was tired of her husband's promiscuity and that all she wanted was to leave her husband so that she could not get infected with HIV/AIDS.
She said her husband left their matrimonial house on grounds that he had gone for work when in actual sense he was staying with his girlfriend in the same locality.
Phiri said her husband's sister told her that he was staying with another woman within the same area and that when she went to the woman's house her husband hid in the maize field.
She said when she went to the field she found her husband without a shirt and that when they both reached at their matrimonial house after dragging him she checked her husband's trousers and noticed a stain of semen on his trousers and underwear.
Phiri said that she was disappointed that her husband was having an affair with another woman while married to her and that it would be better if he married the other lady.
Phiri said her husband went home shaved on several occasions' making her conclude that was shaved by the girlfriend.
She added that her husband could not even buy food at their house but that she was the one buying food and paying rentals.
"What is the use of a husband if he cannot buy food, and cannot even pay rent while he is working? I am better off alone," she said.
In defence Mwansa said he was still in love with his wife and that he could not support her financially due to hardships he was experiencing.
He admitted having a girlfriend and later said he had already ended the relationship with her as she was just a temptation.
"We have not even reached a year in our marriage. I wish my wife can forgive me since I have accepted my wrong doing and I am willing to change for the better," he said.
In passing judgement magistrate Lewis Mumba sitting with Pauline Newa granted the couple divorce.
'He refused to have sex with me because I did not bath'
By THANDIWE MOYO –
A FOURTY-THREE –YEAR-OLD woman narrated before the Kanyama local court that her husband refused to make love to her because she did not bath.
This was a case in which Gloria Nsangu of John Laing Township sued her husband, Evelyn Habulembe, 31, of the same location for divorce on grounds that he denied her sex for being old and dirty.
The two got married in 2010 and have two children.
Nsangu told senior court magistrate Daniel Phiri sitting with magistrates Sarah Nyendwa that all was well until 2013 when Habulembe stopped having sex with her on grounds that she was not clean and that she was too old for him.
Nsangu added that Habulembe would refuse to make love to her because he did not want to sleep with a woman who could did bath and was a chinkote-old woman.
She explained that Habulembe also developed a habit of beating her and would refuse to eat the food she prepared.
Nsangu  said her husband also said he wanted divorce as he had seen good-looking woman whom he said could not be compared to his old dirty wife.
She said it was better for the couple to divorce since her husband had another woman where he was staying now.
"He deserted home two months ago and he is currently living with another woman so I think its best we part," she said.
Nsangu further said that in 2014 Habulembe packed her belongings on three occasions and threw them outside arguing that he was tired of her.
In defence, Habulembe said that Nsangu was lazy and had no respect for him and his relatives.
He said he was no longer interested in his wife and thus felt divorce was a good idea since their marriage was on the rocks.
Magistrate Daniel Phiri sitting with Sarah Nyendwa granted the couple divorce and ordered them to share all their property equally.
Court hears how man inspects wife's private parts
By THANDIWE MOYO –
A WOMAN of Lusaka's John Howard Township in Lusaka narrated how her husband inspected her private parts whenever she went home from work.
Muma Chama, 28, said whenever she returned from work her husband Oswald Mbewe would push her in the bedroom to inspect her private parts to find out if there were signs of any sexual activity.
Chama said when checking her he would force her to open her legs widely while touching the outer and inner layers of her private parts.
She said she wondered what that meant since he kept on doing it from the time she started working in 2013.
Chama said her husband would also beat her, undress her and insult her in full view of their children whenever he found a man's number in her phone.
"Due to my husbands' insults and treatment, I have lost all my male relatives' numbers since he calls every number I call and insults all my male relatives and customers since I sell sausages," she said.
Chama said her husband was also in the habit of leaving home without buying food whenever the couple had a dispute.
This was heard in a case in which Chama sued  Mbewe for marriage reconciliation after the two failed to resolve their marital disputes.
In his statement Mbewe told the court that his wife was too busy for him and that she never cooked or prepared water for his bath.
He said he never inspected his wife's private part but would usually bath her as that was one of his ways of showing love.
Magistrate Serah Nyendwa, sitting with Ackim Phiri gave the couple a three months ultimatum in which to reconcile.
The court further advised the woman that if the husband did not change after three months she should sue for divorce.
'I caught my wife smearing charms on her private parts'
By THANDIWE MOYO –
A THIRTY-THREE-YEAR-OLD man narrated before a local court in Kanyama how he caught his wife smearing charms on her private parts.
Charles Mfungo of Garden House Township sued his wife, Edina Tembo, 31, of the same location for divorce because he suspected the charms were to make him fail to make love to other women other than his wife.
The two got married in 2007 and have no children together.
Mfungo said he was surprised to find Tembo smearing some black powder on her private parts which she earlier said was for adding to porridge.
"Whenever I try having intercourse with a woman besides my wife I can't function so I suspect my wife could have done something to my private part," he said.
He said that Tembo refused to make love while the light was on and usually made love with him in the dark.
Mfungo produced the alleged charms in court for evidence and said he wanted herbal doctors to tell him what the medicine was meant for.
He said he could not stay with a woman who used charms since he did not trust her anymore.
In defence Tembo admitted using the medicine but argued that it was a well known medication that most women put on their private parts to tighten them.
She complained that her husband was over suspicious of her and at one time threw away medicine for porridge.
In passing judgment, Magistrate Ackim Phiri said Tembo needed prayers and that she should not believe in charms or herbs from witchdoctors.
He granted the couple divorce without compensation but ordered that property acquired together be shared equally