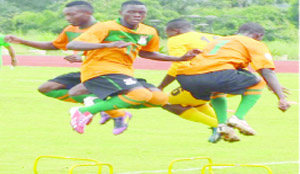 By GODFREY DUBE –
ZAMBIA today needs a clear two goal win over nemesis Zimbabwe at Nkoloma Stadium in a do-or-die clash to secure a place at the Cameroon 2016 Africa Women Cup of Nations finals billed for November.
The Shepolopolo trail the Mighty Warriors 1-0 heading into this afternoon's final round return leg which sees the hosts needing to score two unanswered goals to clinch a slot at the continental competition set for November 19 to December 3.
"Today's game is a do-or-die and nothing will stop us from qualifying. Let's wait and see what comes out of it but we shall use the 90 minutes wisely so that we win the game," said Shepolopolo coach Albert Kachinga.
Kachinga described Zimbabwe as a strong side but is confident that Zambia will emerge triumphant having played their neighbours and knows their weaknesses and strengths.
Striker Noria Sosala has urged the team against underrating Zimbabwe this time around and should avoid the mistake that saw them succumb to a narrow defeat.
"We shall not underrate Zimbabwe, they are a good side and we regret the game we lost on Wednesday, we want to go to Cameroon and we can only go if we beat Zimbabwe in today's game," she said.
Zimbabwe captain Felistas Muzongondi is confident that her side will get the desired result as a draw will be enough to see them through to the finals.
"I can say we are left with 90 minutes to qualify. So what we need to do as players is to score goals and defend as well. We have to put in 100 per cent effort, focus on getting the result we want," Muzongondi told the Herald.
Qualifying for the Africa Cup will see Zimbabwe add another feather to their cap following their Rio 2016 Olympic Games qualification last October when they beat Cameroon.
Coach Shadreck Mlauzi, who has indicated that he is looking to strike a balance between attack and defence, maintained almost the same team that played on Wednesday with just two changes.
He dropped the pair of midfielders Mavis Chirandu and Greater Bhande, opting for experience in seasoned players Rufaro Machingura and Eunice Chibanda.
"We are going flat out for a win. We have in mind the Olympics we are
preparing for also, as well as the result we want from this game. Everything hinges on how tactically it goes," said Mlauzi.