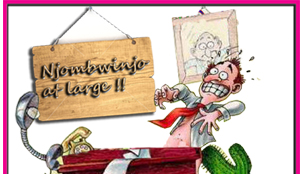 Everything was getting rather confused. Something was totally out of place.
Somehow, this stranger of a girl who started this game by handing me some Kwacha note on the day I played brilliantly in goal for the teachers' football team, which money I had accepted out of politeness, had now returned to my house, had initially offered to wash my dirty clothes but when again out of my modesty, too soft to disappoint her I had said she could go ahead and do the task especially as she insisted it was free of charge, she had taken advantage and said she would do other things for me like preparing my food, pressing my clothes after they dried up and also sweeping and polishing up the floors!
Now that looked like I would be spending the whole of my day with this little black thing hovering around my house!
I thought we had absolutely nothing in common and even if I was in need of a maid to help around with house chores, I would find her a somewhat distasteful option. Her simplicity was obvious yet she had these confident airs about her that didn't quite match what I believed about her or where I thought she truly belonged.
I found it difficult to sit down and ignore her so I ended up also hovering about her, somehow, trying to see if she was doing the right things with whatever I entrusted her with. I had this discomforting thought she might just be a mad little thing, a schizoid that had been written off by her community and that nobody ever paid attention to her,that ultimately this would turn me into a laughing stock if anyone who knew her saw her looking very busy at my house.
But she went about everything with such feminine confidence and know-how while speaking only things that made sense about whatever task she was up to.
I was definitely uncomfortable how much of naked leg she was willing to expose, having taken off her dirty dress and wrapped herself in my bath towel which was wee too short.
Like I said she had good buttocks, sir, and the exposed legs were light and provocative.
I asked if I could trust her to hung about and finish the tasks she had volunteered to do, even if I went off for a while.  Wouldn't she ransack my house and run away, never for me to see her again?  She laughed the thought away and told me I knew her village so I could easily trace her.  She assured me that she liked me and she respected me which was why she had volunteered to do what she was doing.  I was literally running away from her, fearing I might be tempted to start doing unthinkable things with her if I kept hanging around her and admiring her black butt and those cream legs.
I went to Neverson's house, a good colleague with whom I normally hung out with.  He had stocked up adequately on honey beer, enough for the weekend.
It was fairly early in the day but I joined him and we started imbibing and enjoying the top sounds of those days, both of us good at collecting disco music on vinyl or records (LPs) as they were known.
As I left, the girl had asked if she should cook nshima and I had said not unless I was back because I did not like cold meals.  We drank and even got to the point of dancing with Nevers.  We put some warthog leftovers on charcoal and ate lots of meat.
In time, I completely forgot I had a guest at home who might need to be excused, released as it were.  When I got home, it was approximately 20hours.
I spent some time fumbling in my pockets looking for the key, completely oblivious that I had not locked the house.  She appeared to have been anxiously waiting for my return because she opened for me and sighed heavily at seeing me at the door.
"You are late ba sir," she said calmly. "I have done all I had promised and would have wanted to leave before nightfall but I didn't know where to find you. I couldn't leave your house unattended to either."
It took me several long seconds of staring around, a bit dazed by the bright light from my little living room before I could recognise her, the entire picture returning to my drunken head.
"Oh, oh, sorry," I said to her, truly apologetic in spite of my drunken state.
"I got so engrossed in drinking the Mbote, it was so good, I completely forgot you were here, yaaaba!"
"I've washed and ironed your clothes," she said showing me where she had neatly bundled everything, shirts, trousers, socks and two ties. "I swept the whole house, I applied Cobra and shined it.  I also prepared some game meat and … you didn't leave any vegetables.  I had nshima alone at lunch but there is water on the fire for nshima for supper."
"Thank you very much, my dear," I responded.  "You have been very helpful and one of these days I will return your favors but it's now very late so you had better go.  I don't even feel like eating."
"Thank you for your kind words ba sir," she said calmly, "and I look forward to helping again.  But for now I can't go to the village.  It's late, it's dangerous … sometimes there are things which attack people who move about at night."
"What things?" I said a bit panicky.  I didn't fathom her spending the night in my house.  Even in my drunken state, I thought our standards were too far wide apart.
In those days, I hadn't reached the later years when what mattered when drunk was that I had a woman with me.
"Ghosts, witches, wild animals, snakes," she said matter-of-factly.
"Ghosts? Come on, there are no such things dear," I persuaded.  "Do not be scared of the unknown.  You can reach your village in 25 minutes.  I can escort you half way."
"No ba sir," she was firm.  "We know our villages and how we live.  You, you are a stranger here.  We can't walk past the graveyard this time.  Never mind me. I will sleep here in the sitting room or the kitchen and I … I will be okay."
Just as it had been in the morning (or was it from the moment she had persuaded me to accept her dirty Kwacha note), to how she had persuaded me to let her do some domestic chores for me, she had maintained the same stance and now she was spending the night in my house, with me!
I had only a three-quarter sized mattress, a blanket, a pair of bed sheets and a pillow.  I had just started life, you know.
Somehow, I felt deeply indebted to this girl. I thought it would be unfair to let her sleep in the living room on one of the sofas with maybe just a thin bed sheet to cover herself.  It usually got very cold in the night and … Would there be any harm in sharing my mattress with her, anyway?  I told myself that sharing a space with her would not necessarily translate into any unthinkable engagement.
She warmly accepted my change of heart, offered again to prepare supper, which I accepted and sat back to watch her.  I suddenly felt some warmness towards her and offered her one of my trendy khaki shorts and a T shirt.  She did not seem uncomfortable about me watching her change, only shyly saying her pants were too old.  She looked rather cute in my Bermuda and T shirt!
I was feeling rather dazed from too much Mbote, the honey beer, so as soon as I had eaten, I told her we should retire to bed.
"No," she protested.  "Let me first wash the plates and pots we used."
"Aah, I'm tired," I said.  "Then you will find me when you are done.  I'm going to sleep."
&&&&&
I must have slept for several hours when there was sudden heavy knocking and agitated noises just outside my house.  I awoke with a start, momentarily confused about the noise as well as the second presence on my mattress.  I soon recollected I had offered accommodation to some girl but could not make sense of the noise outside.
"Open! Open! We know she is there, open!"
The girl stood up abruptly and wrapped a bed sheet over her stark nakedness.
"Those will be my people!" she whispered.
"Which people?" I asked confused.  "What do they want?"
"Open!  Open!  We know she is with you!"
"Just open, ba sir," counseled the girl calmly.  "They won't harm you."
Something was desperately amiss here.  I was so unsure about opening to voices I did not know, and many for that matter,ordering me to open my house and telling me they knew she was in my house.  Of course I had a strange girl in my house but what was this all about?
(To be continued).