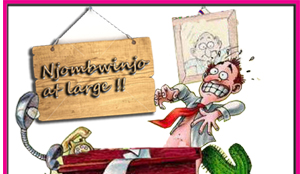 I WAS shocked to see my hopeless womanizing friend Stakes "Girls"Chitambo drive past where I was standing by the roadside, with my older sister Mbikazi in the passenger seat.
I furiously waved him down, very sure he had to see me from where I stood.  He drove on, speeding past, without stopping, which ordinarily, is a very rare occurrence.  He rarely fails to notice me whenever he chances me anywhere.
Now, I could afford to give him the benefit of the doubt.  Either he hadn't seen me or Mbikazi had told him not to stop!  Of the two options, I fell for the last one.  They had seen me but my sister had told him not to stop.
And if Mbikazi was unwilling to stop for me, it could only mean one thing: the two were up to no good!Something sinister was brewing.  Just the thought of Mbikazi in my friend's car without my knowledge was so suspicious I should have called the Police.
But then, I probably wouldn't know what to tell the cops as to why they should start to chase after that car!
The two occupants have something in common: they are reckless, desperate, shamefaced sex maniacs their togetherness could most likely symbolize one thing that they were on the way somewhere to do the most unthinkable things to each other.
Which the cops would have no business interfering with, anyway!
They would even probably get upset with me and lock me up for conduct likely to cause embarrassment to officers on duty if after a high speed chase, all they found were two clowns intent on seducing each other.
I am so familiar with Mbikazi's as well as Stakes' programs.  We were constantly in touch.
The latter was my wretched sister who spent half her life beating up those men that bothered to marry her.
She has such poor temperament before you know it, your innocent statement has injured her and she is throwing her high heeled shoe towards your eye!  And she is constantly broke so she bothers me and my wife Amake Pachikani for money which she says she will pay back but never does.
"Why lend me money and expect it back when you know I don't work?" she argues.  "I will pay back whenever I make some of my own."
What logic!  No wonder when she knows we won't give her anything because of such foolish sentiments, she just jumps on a bus, drops off at the bus stop near Hangover Lay By Bar and walks home to raid my wife's fridge!  She takes anything.  Even visiting the pantry and looting wash powder, bathing soap, sugar and pours some cooking oil in a bottle and departs!
I know her movements.  Almost on a daily basis because she has airtime in her phone to make sure she shares one or two of her endless problems with me.
I am aware right now that that elderly man who drives a rickety tipper truck has come back for her and they are staying together again after she had beaten him up and told him to leave the house he himself was paying rentals for.
Even if she dominates him so much, I don't think he can appreciate his wife going off to do unthinkableswith my friend Stakes.
I thought it equally unbecoming of Stakes to take my sister to bed.  She's my older sister, you know, and it's just silly to take your best friend's older sister and secretly do unusual things with her. When I called his lines, he ignored all my calls.  I persisted till I suppose he got exasperated an answered.
"Where is Mbikazi taking you?" I asked him.
"Who?" he pretended."I…er…"
"You are with my sister and you just drove past me.  I am surprised.  Where on earth are you going?"
"Ok I'm driving… I will explain later there are cops ahead." He cut the line.
Fools.Maniacs.
I hope Stakes knows what he is getting into.  I have told him several times about my sister's poor habits.
She is capable of getting it wrong all the time, whatever it is she gets into. He has to do whatever they have agreed to do, and do it the way she wants.
If he doesn't and tries to play hero, he could get a very good naked beating and a lot of embarrassment.  I mean it!
My sister is a fool, she is mad.  She can start knocking senses into my naked friend there and then if she disagrees with his antics.
And Stakes is one person who fears punches and kicks.  My sister does kick, for sure, and she chooses well where to kick!
I know many men who have been kicked who folded up like worms, writhing in true agony, and who never wanted anything to do with Mbikazi again thereafter.  Muscular looking guys who never realisedthat men have soft centres which must never be kicked!  She flattened them with the very first kick!  Oh!
Now this Stakes who can't even stand a simple slap goes away with Mbikazi.  He loves to take off in full speed and run whenever he senses danger.
But,if he has any running away to do from that imbecile he is carrying in his car, I hope it occurs before he undresses, if they are going to undress anyway.
Otherwise, I tried to warn him and he cut the line.  Enjoy.  Fools.  Enjoy.  But if anyone gets kicked in the process or just after they do what they went to do, it's not my business.  I was not there.
&&&&&&&&&&
It's that time again when our indefatigable next door neighbor, MrsVainesiMtolilo goes wild wearing new attires.
I have noticed that the last three days, she has come out wearing dresses made of Chitenge, quite fashionable by her poor standards, I must say.
My only worry is the material.  It's the kind of stuff that can attract the wrongs types, the red eyed guys that can't stand dissent or opposition.
Look, you cannot pride yourself in wearing a UPND dress on Monday, a PF dress on Tuesday and a UNIP one on Wednesday.  We know she has nothing to do with politics, being a Jehovah's Witness but will the opposing cadres know that?
We know she scrounges for these materials when election campaigns start but of late, cadres from the different political parties have become so intolerant when they come for her here, we might all get beaten up, some of us for not advising her not to dress up in one attire or another.  It's dangerous, this thing she is doing.