Published On July 2, 2016 » 3605 Views»
Features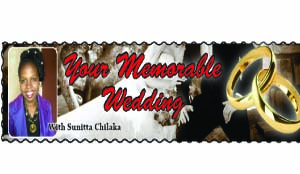 LAST week on this column we talked about having a wedding like a celebrity. Celebrities are fashion forward, so planning a wedding like them should include elegant colours which are not trending at the time. Embrace a vibrant style, unique items you likely wouldn't find at someone else's wedding.
The colour scheme and theme which are trending now are orange, green, pink, purple andred. Give your wedding a vibrant celebrity feel by using blue, gray, black, gold, Champaign, white, turquoise and magenta.
According to the colourpsychology.com, blue is a reserved colour, non- threatening and loved by many people throughout the world. Blue when used as colour theme will create a relaxing and peaceful mood for your wedding in which everyone will feel happy.Blue comes in different variations which are suitable for everyone skin tone, style and taste. In the blue family, the darker the blue, the more conservative, serious, professional it is and the more masculine it becomes.
Navy blue is a great alternative to black, softer and more traditional. It looks great with white, ivory andChampaign. Add lime green or soft yellow in the bouquets. Pale blue is a colour of freedom and creativity. Sky blue is loved by most people all over the world. It indicates a helpful and selfless nature. Azure blue is a colour of contentment that inspires ambition and determination to achieve.
Dark blue when combined well with a suitable and matching colours which give the couple and invited guests every reason to smile and enjoy the wedding celebration.
Midnight blue is a colour which never misses its appearance on the red carpet either invited or not.
Many wedding decorations which are blue in colour are available everywhere. They are easy to find but rarely used as a scheme and theme. All shades of blue fabric are within reach. Bridesmaid dresses can be made locally or get the ones already made and groomsmen shirts or neck ties are everywhere. We do not expect groomsmen to wear sky blue suits on the wedding day. The availability of these things make it very easy to access them and it helps to work within the scope of the budget.
Organising such a wedding with a blue colour scheme and theme requires that you pay particular attention to detail. Long formal dresses will look elegant on the bridesmaids and for church chitenge dresses work well with such a theme. It is a formal celebration so bridesmaids and groomsmen are required not dancing queens and kings.
Blue is a sweet, innocent colours which is just beautiful in the eyes of those looking at it. A simple but elegant décor will give a lasting impression, so less fabric draping and backdrop will complete the look. The décor should not be exaggerated with this theme if you are to have a wedding which guests will talk about all the way. A good and enjoyed wedding is highly celebrated, everyone has a favor to hit the road with, even those at home are partakers of snacks and dogs can tell by the way they are served with steak on bone.
Blue gift bags and cake boxes are available for the sweet memories and a blue cake can be designed to meet your specifications and have a memorable wedding you ever thought of on a budget that you have.
Celebrities do not go with the colours trending rather they make colours to trend. This is why there weddings are unique and they bring out the colours which no one thinks they can look elegant when worn or as a wedding scheme. They follow their style even when planning there memorable wedding. If your style as a bride or groom is not crowded or exaggerated, then your wedding reception should not be crowded or exaggerated with fabric or décor items. Follow your style and taste.
The other colours you can use to combine with blue are turquoise which controls and heals the emotions. It is a happy and friendly colour which opens the lines of communication between the heart and the spoken word. Turquoise will create a refreshing, friendly and happy mood at your wedding. It is calming to anyone in the reception venue, the one making a speech and assists with clarity of thoughts, so it's good colour paper choice to print the speech and menu on.
The other colour you can use with blue is magenta. This is a colour which will create a mood of compassion, kindness, support and cooperation along with innovation and individuality. This colour affects how you plan your wedding and your guests will expect a unique wedding experience from you. Magenta colour helps to bring out the glamour in a wedding.
The groomsmen look fabulous in charcoal gray suits. Gray as one of your main wedding colours will create a mood of neutrality. Too much gray will make the reception dull, so a warm gray will be more involving and connecting to your invited guests.The darker the gray, the more dramatic it becomes.
The lighter the gray the more illuminating and lively it is. Gray is rarely mixed with black or white. It often has elements of other colours such as blue, turquoise, magenta and yellow within it which lifts and energize it during a wedding celebration.
Celebrities always influence us in everything, the way they dress, cars they drive and the foodthey love.A celebrity wedding is possible when both the bride and groom take time to plan it together and involve the right people in the planning process.
For comments and contributions:
Cell: 0966665468
Email: sunittasyabeene@yahoo.com