Published On May 12, 2017 » 2612 Views»
Features
'The Ministry of Health has a mounted a very healthy programme aimed at keeping Zambians healthy through regular exercise and good nutrition'.
That was my immediate reaction upon receiving three text messages from the ministry, the first of which was sent to my cell-phone on May 3, 2017, saying: 'Its National Health Week. Did you know that physical activity helps you reduce your risk of heart diseases and diabetes? Exercise at least 3 to 4 times a week'.
The next one said: 'As we commemorate National Health Week remember to eat well!! Include vegetables and fruits at every meal. A healthy Zambia starts with you!
That was on May 4.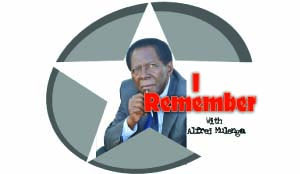 The third and final one came on May 6, saying, 'Its National Health Week!! Remember to sleep under an insecticide treated net every night to prevent malaria'.
The ministry's effort is laudable because it will help curb premature deaths, some of which are due to lack of information.
The high cost of living is another factor that cannot be ignored when it comes to matters of good health and nutrition.
For it is true the ordinary worker cannot afford the price of both imported and locally produced food items that are critical to one's well-being.
In the colonial days markets were the first port of call for anyone looking for cheaper foodstuffs, but the situation has changed dramatically hence the high levels of malnutrition and poverty.
It is worth recalling that in the olden days there two categories of markets: one for Europeans and the other for Africans.
The difference between the two market places was that the Europeans was smaller and environmentally cleaner as it catered for a smaller white population of both government and miner workers while that for Africans was crowded as it was always patronised by multitudes of shoppers from nearby mine townships like Mufulira's Kantanshi and the Mufulira municipal council locations of Chibolya, Kamuchanga, Kansuswa and Minambe for example.
I must admit that although the African markets were heavily patronised they were serviced at regular intervals by the local authority so much that even whites looking for cheaply priced items like beans flocked there; and conversely Africans in better paying-employment and could afford 'luxuries' went to the European markets for whatever they wanted to eat to reflect their newly acquired status.
These 'apamwamba – (top class people) – as they were popularly referred to in social circles those days, also acted as a source of inspiration to others who wanted to improve their lives by good education and putting in an honest day's work in their various places off employment.
Traders did not use shortages of certain goods and services as an excuse to exploit the unsuspecting customer, hence prices were affordable and most people were able to enjoy degree of good health and nutrition.
What was plainly rampant then was racial discrimination in employment and access to various social amenities where the Europeans wanted the 'very best' for themselves at the exclusion of the indigenous people.
Naked racism – which some scholars and researchers attribute to  'imported-apartheid from South Africa and Southern Rhodesia' – incensed African nationalist leaders, such as Kenneth Kaunda, Simon Mwansa Kapwepwe, Harry Nkumbula, Mungoni  Liso, Munukayumbwa Sipalo, Lawrence Katilungu (unionist), Sikota Wina, Katiya Ngalande, Fines Bulawayo, Lewis Changufu, Joseph Mutale, Justin Chimba, Peter Chanda, Alex Shapi, Bob Litana, Arnold Simuchimba and many liberal whites who believed in the equality of all races to rise up and fight for justice.
When the Big Day came on October 24, 1964, Kaunda and the ruling United National Independence Party (UNIP) central committee, worried at the soaring cases of malnutrition and poverty among the marginalized indigenous populations, announced far-reaching programmes to strengthen the new nation.
Among the plans they announced was the need to raise nutritional levels among the people who had for years been marginalised by the colonial administration.
So in a concerted effort to achieve the goal, the new leadership of the country decided to launch a programme anchored on improved food production that would eventually make it possible for every school-going child to have 'an egg and a glass of milk' every day.
The strategy was to produce so much food to feed the entire nation and realise a surplus for export to earn the much sought after foreign exchange. The project, especially the supply of milk to various schools across the country worked well in the first few years immediately after 1964.  Regrettably the programme soon ran into unexpected hurdles, was politicized and eventually dropped from the list of top priorities as the national economy started to develop hard-to-seal cracks. In the light of the above, one hopes that the Ministry of Health's initiative, which has received President Lungu's blessing, will mark a first major step to the revival of projects and programmes intended to upgrade people's lives but were discontinued to a variety of regional and global economic factors.
The MoH's announcement prompted me to recall some contents in a brochure that I was given in 2009 by a group of Seventh Day Adventist 'disciples' who passed by our rented house in Block 9, Gaborone West, Botswana, titled 'Natural Ways of Preventing Disease'.
I believe its theme resonates well with the MoH's campaign as it offers a number of useful tips on what anyone seeking to live longer and feel healthier needs to do. If you are 60 and above and experiencing problems in walking and urination and cannot do your routine exercises, you must quickly see your doctor because you could be a victim of prostate cancer, which destroys your reproductive system and probably killing for adult males than HIV and AIDS.
Based upon a California study in the United States of America (US), Dr Breslow has identified seven health habits that would improve health and increase longevity.
•Control your weight, so that you are neither overweight nor underweight;
•Establish regular eating habits with no snacking between meals;
•Enjoy a hearty and well-balanced breakfast;
•Refrain from the use of alcohol;
•Treat yourself with seven to eight hours of sleep every night;
•Stay with a moderate and consistent exercise programme; and
•Do not smoke.
According to the document, researchers discovered, among other things, that people aged 45 who practiced at least six of these health habits would normally live 33 more years; those who practiced only one or two of the habits could expect to live only 22 more years. That means a 150 per cent return on the investment and better enjoyment of life as well.
These seven health habits will definitely make a positive impact on the quality and longevity of your life. But the eight 'golden laws of health' will help you live even more healthy, and longer.
These eight natural remedies are: Pure water (which is why Kafubu and other water and sanitation enterprises must up their game or be privatised); Fresh air (pollution at Mufulira, Nkana and Nchanga mines, come to mind here); Rest; Temperance, Sunlight, Exercise (which MoH has seen as cardinal – at last); Nutrition, and Trust in God.
PURE WATER
Did you know that water in the single most important part of a proper diet? Our body uses 40,000 glasses of water each day (some people foolishly say they don't like to drink water) to take nutrients to each cell as well as carry away waste products. God has designed our body to recycle almost all of that, but some water is lost and needs to be replaced. The average adult needs six (6) to eight (8) of water each day. The best time is between meals, half an hour before a meal, or two (2) hours after a meal, which is contrary to what we see in most Zambian homes where water is often taken as part of the menu.
FRESH AIR
Today, more and more people are concerned with the quality of air they breathe, and with good reason. It has been shown that even non-smokers who live in high air pollution area (like Mufulira's Kankoyo or Kitwe's Busakile mine townships which are located nearer to the slug damps) suffer with the same kind of symptoms that smokers do. The pollution in the air decreases the amount of oxygen that can actually get to the blood. A prevalent ingredient in polluted air, carbon monoxide, actually binds with oxygen in the blood, making it ineffective.
According to one study, thousands are dying (or have died) annually from air pollution.
'Major cities in the United States kill thousands of Americans every year. If people live and breathe long enough in city smog, they usually contract some disease that will eventually kill them. The National Resources Defence Council put out a list with the deadliest cities in the US and number of people they killed each year. Los Angeles topped then with 5, 873 followed by New York, 4,024 and Chicago, 3, 479.
So what needs to be done? I believe – in the Zambian context – the MoH strategy is a step in the right direction: Exercise.
In case you did not know, exercise strengthens the lungs and provides the system with more oxygen. During exercise, the lungs are trained to breathe more deeply while we increase their ability to expand.
GOOD POSTURE
Shallow breating is often due to tight-fitting clothes and poor posture. This causes the blood to become impure because there is less oxygen for the system. Consequently, we become depressed, our concentration is lessened, and our digestion disrupted.
DRINK ENOUGH WATER
Water is essential for good respiration (breathing). The lungs are 75 per cent water and we lose at least one pint of water in our exhaled breath each day.
REST
A vital part of a healthful lifestyle is getting the right quantity of and quality of sleep. It is during sleep that the body is able to rebuild and recuperate, getting ready for another day of activity. So some vigorous exercise during the day in the fresh air and sunshine, will aid in restful sleep.
Also adopt a night-time routine which may include a warm bath, doing some quiet reading, or drinking (if you can afford the cost) a cup of herbal tea and avoid stressful or negative conversations.
Finally, do not overeat or have a heavy evening meal because when the stomach is not empty before sleep, the digestive process continues during the sleeping hours and this often results in 'unpleasant' dreams.
It is against this backdrop that I find the MoH's decision to introduce a nationwide 'keep fit' programme commendable. One hopes too that authorities will also revisit the post-independence 'egg-and-glass-of-milk-a-day' campaign to boost nutrition among the people who must be fit and healthy enough in order to undertake routine exercise.
In the colonial days drills and military-style parades were part and parcel of the education system and went a long way in instilling discipline among the pupils who graduated into responsible and healthy adults who helped the leaders in the fight for the country's independence on October 24, 1964.
Comments: alfredmulenga777@gmail.com.