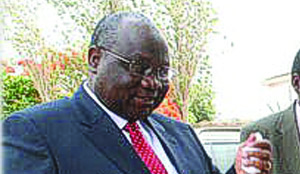 By SANDRA MWILA-
THE Zambia Amateur Boxing Federation (ZABF) council has voted to change the organisation's name to Zambia Boxing Federation (ZBF).
ZBF secretary general, Caesar Musuku said the council voted for change during the federation's annual general meeting held at Nyaka Lodge in Kabwe at the weekend.
The change of the name is in line with the requirements of the global body, AIBA, who also now organise professional boxing.
ZBF also appointed Green Buffaloes' Anthony Lupupa as its technical and rules commissioner.
The ZBF's membership database was also commissioned and the 2014 boxing calendar adopted.
And Under-20 boxing coach, Maybin Gunduzani has bemoaned the breaking of camp for the pugilists preparing for next month's African Junior Championships in Botswana.
In an interview after the team broke camp yesterday at the  Olympic Youth Development Centre (OYDC) in Lusaka, Gunduzani said he was worried as the boxers could lose their fitness levels at their various homes when called back for the final tune-up before the championships.
He said the two weeks the boxers had spent in camp were worthwhile as the pugilists had made some remarkable progress and that it was important for them to be kept together for a longer period.
"Looking at the tournament the under 20 boxers are preparing for, there is still need to continue in camp for the boxers to maintain their fitness levels. As coach, my fear is that when they boxers go back to their various homes they might lose their fitness levels and when we regroup for the final preparation it will be like starting afresh. The team responded well to training and it was encouraging for us coaches to see the progress they were making which is a good sign of performing at the Africa games," he said.
He said the eight-member squad which would be competing in the Botswana tournament still need to be tested and monitored by the coaches.
"These boys and girls don't have the exposure.  It would have been better  if a tournament was organised to prepare them for the African games even if it means them competing with the senior team," he said.
Gunduzani has meanwhile thanked ZBF, National Olympic Committee (NOC) and OYDC for the support they rendered during the camping period.