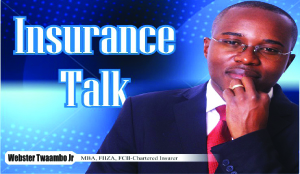 WITH ten years experience in the insurance industry, I have been privileged to see how the game is played. There are many potential fraud areas and scenarios which are very tempting and only people with integrity are able to stand against them.
For example on a number of occasions customers have approached me to give them a COMESA (Common Market for East and Southern Africa) yellow card despite not having an Insurance Policy. For those who may not understand what a COMESA yellow card is, it is a document which is required when driving to a COMESA country as proof of insurance.
With a COMESA card someone travelling to a member country will not need to buy insurance in that country and the COMESA mechanism will pick up any liabilities.
The card only cost about K58 for a month while minimum insurance is about K522, for instance, for private vehicles. Now here is someone offering an insurer K500 for a 'favour' of issuing this document without insurance in place.
With this example it does not require a sophisticated mathematician to comprehend that it is better to actually buy the COMESA yellow card using the normal way. Why then would someone try to engage into this fraudulent activity?
I tend to think that this has to do more with the mindset. Some people cannot just believe that they can get something without corrupting an official.
Quoting the free online dictionary a fraud 'is a false representation of a matter of fact—whether by words or by conduct, by false or misleading allegations, or by concealment of what should have been disclosed—that deceives and is intended to deceive another so that the individual will act upon it to her or his legal injury.'
Fraud is commonly understood as dishonesty calculated for advantage.
Through experience, I have come to see many potential fraudulent areas in our industry. A lot of which are never reported.
I believe we need to expose and fight these fraudulent activities in order to promote nobility, sanity and integrity in our profession.
Insurance is based on utmost good faith which is mainly the duty to disclose material facts in an honest and truthful manner.
A material fact is any fact that will influence a decision of an underwriter or insurer for example if someone discloses to an underwriter that he is 25 years old and later give insurance terms based on that 'fact'. Now if the underwriter then discovers that the person is actually 19 years old then this is considered a material
fact because the underwriter could have given different terms.
It is common knowledge that young and inexperienced drivers are more prone to accidents than those older and experienced.
Therefore breach of utmost good faith arise from two angles namely misrepresentation and non disclosure. These can either be innocent or fraudulent and can either take place at either underwriting or claims or on both stages.
The duty of disclosure continues throughout the contract and the insured is required to advise the insurer of any changes to the subject matter.
Now the crucial question one might ask is what are the consequences of breach of utmost good faith? To an insurance professional this may be straight forward but to a layman it requires elucidation.
Following breach of this principle the aggrieved party has the right to (i) avoid the contract abinitio meaning from inception or avoid liability from an individual claim (ii) sue for damages and (iii) waive the rights and allow the contract to run.
With this understanding and based on experience I will now be focusing on areas within the insurance industry I feel need to be exposed or discussed as a way of sensitizing members of the public and the industry of course with a view of upholding integrity.
Join me next week.
Comments: webster@picz.co.zm or webster_tj@hotmail.com or on face book
search for Insurance Talk-Zambia page or call/text 0977 857 055
(The Author is a Chartered Insurer with ten years industry experience)