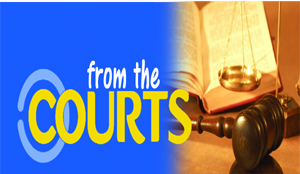 By THANDIWE MOYO –
A THIRTY- SEVEN –YEAR-OLD man has sued his wife for divorce on grounds that she is a drunkard who undresses in bars whenever she takes alcohol.
Dickson Mwanza, 37, disclosed in the Kanyama local court also that his 34-year-old wife Memory Kaunda had a tendency of undressing at home in full view of their children.
This was a case in which Mwanza of John Laing Township in Lusaka sued Kaunda of the same area for divorce owing to her perpetual abuse of opaque beer commonly known as chibuku.
Mwanza told the court that his wife on several occasions came home late, a situation that compelled him to lock her outside, forcing her to return to the bar.
Mwanza said his wife would often undress in the presence of their children but he never disclosed to anyone fearing embarrassment.
"My wife drinks strong alcohol such as chibuku and spirits and undresses in front of our children and sometimes in front of our neighbours," he said.
He told the court that his wife sold some of his clothes, among other valuables, to buy alcohol with her friends.
Mwanza wondered what else his wife would do just to have a taste of alcohol as she had become a habitual drunkard.
He told the court that he had never been happy in their marriage and that he had even approached his wife's family for intervention, but that his efforts proved futile.
In defence, Kaunda said she resorted to drinking alcohol because her husband had a girlfriend who called her on several occasions claiming that she was the rightful owner of Mwanza.
Kaunda said further that her husband was violent and he usually insulted her in the presence of their children.
She also denied undressing in bars and at their matrimonial house,saying that her husband had intentions of marrying another woman and that was the reason he fabricated stories.
In passing judgment, magistrate Lewis Mumba said marriage was not a forcing matter and thus granted Mwanza divorce, but ordered him togive the house to his wife and children.
Dad sues son over witchcraft accusations
By THANDIWE MOYO –
AN EIGHTY FOUR-YEAR-OLD man of Lusaka's George Township has sued his son for accusing him of being a wizard and mad.
Lumuno Mweemba said his son Derrick Mweemba had on several occasions threatened to kill him on allegations that he was responsible for his late mother's death.
The court heard that last year Derrick's mother, who was also Lumuno's first wife, died in unclear circumstances.
Lumuno said he sued Derrick so that he could pay him for calling him a wizard and that he was ashamed that his own son told him that he was insane.
Lumuno said he had divorced his first wife because she could not respect him and that he did not even know the cause of her sickness as she was allegedly insane before she died.
He said his son had always accused him of  bewitching his first wife.
"From nowhere, my son started insulting me and told me that he would kill me in the same manner that I killed his mother," he said.
In defence, Derrick denied all the allegations and said his father  was a bad man, who mistreated his mother, a situation that led to her ailment and subsequent death.
Derrick said after his father got his pension, he decided to divorce his first wife and married another woman, leaving his mother and some of his siblings in abject poverty.
He explained that his father opted to grab  the house which his mother left for his siblings and that he wanted to sell it.
Derrick narrated that after telling his father that he could not sell the house since all of his siblings lived there,  Lumuno decided to suing him for defamation.
Magistrate Lewis Mumba, sitting with Pauline Newa, ordered   Derrick to apologise to his father for exchanging words with him and asked the two to live in harmony.
The magistrate further urged Lumuno to be fair with all his children when sharing property and that the 84-year-old was the pillar thus it was his job to ensure that all his children had a home, hence the need to live in harmony.
'Cruel' woman dragged to court
By THANDIWE MOYO –
THE Matero local court has heard how a woman of Chunga Township in Lusaka used to mistreat her 10-year-old step-daughter.
Kamwi Lubinda, 32, told the court that his wife was so heartless towards his daughter to the extent of hiding the child's books and denying her food whenever he was out.
This was a case in which Brenda Nkalamu sued Lubinda for divorce after the two failed to resolve their marital disputes.
Problems in their marriage started shortly after the two got married in 2008. The couple has one child.
Lubinda said his neighbours were urging him to be leaving the child with them for fear that  she would die of malnutrition.
"This woman does not give food to my child and she has never been a mother to my child, my child's mother passed away so I am her only parent for that reason I cannot allow such a woman to take care of my vulnerable child.
"When helping my daughter, I made it a secret because she was against me helping her and she would advise me to take my daughter at my mother's place," he said.
Lubinda said his wife was also fond of insulting his parents and was against him helping his daughter with her school fees on grounds that his daughter was a useless child.
Lubinda further accused Nkalamu of mistreating his mother and most of his relatives who visited their house by denying them food and nottalking to them.
He said he endured so much from his wife and that they managed to go thus far because of the love he had for her.
In defence, Nkalamu said her husband was stingy and he never used to support the family in any way.
She said Lubinda was also a violent man as he used to beat her on several occasions for no apparent reason.
Nkalamu said besides that, her husband used to chase her out of the house, making her spend nights in the cold.
"Iam tired of being beaten up by my husband and spending nights outsidein the cold, it is better that you just grant us divorce," she said.
"Moreover, our marriage ended a long time ago because some time back my parents returned the dowry that my husband paid," she said.
Magistrate Pauline Newa, sitting with Lewis Mumba, dismissed the claim, saying their marriage ended the very time dowry was returned to Nkalamu's family.
Hubby after sisters in-law
By THANDIWE MOYO –
A WOMAN of Lusaka's John Laing Township has refused to reconcile with her husband as he has been threatening to start sleeping with her two sisters if she continues working.
Mutinta Mwangala, 33, told the Matero local court that her husband Raymond Mwila, 44, had threatened to be getting sexual satisfaction from her step-sisters who happened not to be in a good relationship with her.
Mwangala said she was not willing to quit her job and that she suspected that her husband might have had sex with her sisters and that was the reason he kept saying he would marry one of them if she continued working.
Mwangala said since her job required her to travel a lot, leaving the children with her husband, she was afraid that he might one day do it.
"My husband has on several occasions  threatened to marry my sisters,so I think we cannot reconcile. Let him do what he thinks is best for his life," she said.
This was heard in a case in which Mwila sued Mwangala for marriage reconciliation after the two failed to resolve their marital disputes.
Mwangala said although her husband had been forcing her to quit her job, he was incapable of supporting her and their children financially.
"Through the business that I do I manage to support myself, my two daughters and him (her husband) though he never appreciates my efforts," she said.
In his statement, Mwila told the court that he was a man with feelings and always needed his wife closer.
Mwila said his wife was never home, always left him home alone and that he had no one to be with her hence he was getting tempted to date one of her step- sisters who lived near their house.
Mwila said all he wanted was for his wife to find another business which did not require her to move a lot so that she could have timefor him.
He said further that he was suspecting his wife of having a love affair with another man who used to call her at awkward times.
"I do not stop my wife from working, but her business of travelling to various districts does not allow me to be with her, so I thought it would be better if she changed her line of work," he said.
Magistrate Lewis Mumba, sitting  with Pauline Newa, tried to reconcile the couple and ordered them to have a meeting with their family members to resolve their dispute.
Mr Mumba said the court was not pleased to see  marriages break up, hence urged the couple to work on their marriage and start leaving in harmony.
Adulterous man fined K16,000
By THANDIWE MOYO –
A CHIPATA Township man in Lusaka has dragged his friend to court for having a sexual relationship with his wife.
Brian Lupiya, 58, sued his friend Aaron Sibanda, 38, of Garden Township for allegedly having sex with his wife.
Lupiya said he was shocked to find some love messages in his wife's phone sent by Sibanda.
Lupiya said most of the times he was never home owing to the nature ofhis work as a truck driver and that his wife took advantage of his absence to cheat on him.
Lupiya revealed that some of the text messages sent by Sibanda on his wife's phone read as follows: 'Can I come warm you up baby?', 'I miss your love my baby,'  'I need you to be mine and the picture of your body is still in my mind."
When Lupiya confronted the wife over the issue, she fled to her parents' home on the Copperbelt. She only returned to the matrimonial home after he told her that he had forgiven her, but that their marriage has not been the same.
He said Sibanda was like a brother to him and that he knew very well that the woman he had an affair with was married.
Lupiya said he needed to be compensated by Sibanda since his marriage was on the rocks after Sibanda and his wife committed adultery.
When Lupiya's wife Grace  was questioned over the matter, she admitted that she had an affair with Sibanda and that their relationship had been going on for two years.
Grace said she had a number of sexual encounters with Sibanda and that he was her boyfriend.
In defence, Sibanda denied the allegations and said the messages were probably sent by his brother or friend.
Sibanda said he respected Lupiya's wife and that he knew they were both married and that he could not have sex with a married woman.
In passing judgment, magistrate Lewis Mumba, sitting with Pauline Newa, said even if there was no evidence that Grace and Sibanda committed adultery, the text messages showed that Sibanda had something to do with Lupiya's wife.
The magistrate ordered Sibanda to compensate Lupiya with K16, 000, to be paid in installments of K500 every month.